Roasted Butternut Squash and Red Lentil Soup
Roasted Butternut Squash and Red Lentil Soup is made with fresh, healthy ingredients and is garnished with Greek yogurt, pepitas and parsley. Make a batch and enjoy it for lunch or dinner throughout the week!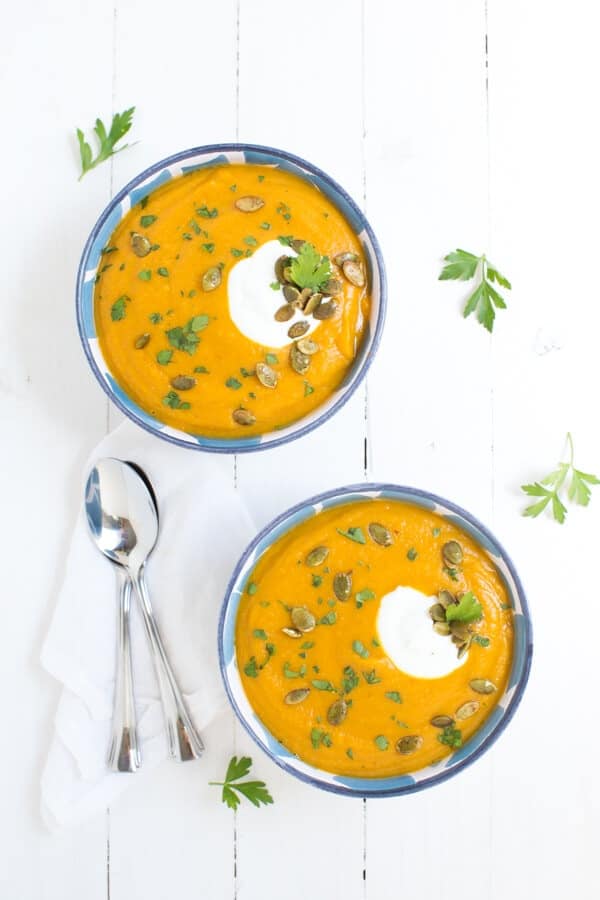 Whether we like it or not, for those of us in the Northern hemisphere, fall is here. So tell me, what do you like or dislike about the changing of the seasons? Do you dread the arrival of the colder temperatures? Do you love apple picking, pumpkin picking and more fun fall activities?
MY LATEST VIDEOS
I'll admit, when I lived in New England I had a love/hate relationship with fall. I loved all of the new flavors, apples, pumpkins, cider, and more. I loved fall clothing and fall foliage. But I dreaded the arrival of the cold winter weather. Now that I live in Florida, I absolutely love fall. The weather cools down a little, the beaches are gorgeous and my garden starts bursting with fall flavors.
One of the fall flavors I can't resist is butternut squash. I like to chop the squash into small pieces, mix with a small amount of olive oil, salt and pepper and roast in an oven for 25 minutes. It's quick, easy and the perfect addition to any meal.
In my quest to make weeknight meal planning easy, I try to prep a few meals ahead of time to last me throughout the week. Mason jar salads, one pot pasta, and spiralized noodles are great weeknight meals. I also love making a big pot of soup to last me a few days during the week. For this recipe, I used Bob's Red Mill Red Lentils. I love adding red lentils to the roasted butternut squash soup because it gives the soup a better texture and flavor. Not to mention that it enhances the beautiful color too.
Make a batch yourself and enjoy the flavors of fall!
Roasted Butternut Squash and Red Lentil Soup
Yield: about 6 servings
Prep Time: 10 minutes
Cook Time: one hour
Total Time: 1 hour 10 minutes
Ingredients:
½ cup extra olive oil, divided
1 small butternut squash (about 2 pounds), peeled, seeded and chopped into small cubes
salt and pepper, to taste
4 cloves garlic, finely chopped
2 medium carrots, finely chopped
1 medium white onion, finely chopped
1 teaspoon ground cumin
½ teaspoon crushed red chile flakes
½ teaspoon paprika
6 cups vegetable stock
1 cup red lentils (I use Bob's Red Mill)
Toppings:
chopped parsley
pepitas
Greek yogurt
Directions:
To roast the butternut squash, preheat the oven to 400 degrees F. In a large bowl, toss the squash and 1 tablespoon olive oil. Season with salt and pepper. Arrange squash on a baking sheet in a single layer. Roast for 25 minutes or until squash is tender. Remove from oven and cool slightly.
Heat the remaining oil in a 6-quart saucepan over medium-high heat. Add garlic, carrots and onion. Cook, stirring occasionally, about 12 to 14 minutes or until slightly caramelized. Stir in cumin, chile flakes, paprika, and roasted squash. Cook for 1 to 2 minutes. Add stock and lentils. Bring to a boil, then reduce heat to medium-low. Cook, slightly covered, for 20 minutes or until lentils are very tender. Cool slightly then, working in batches, use an immersion blender to purée soup until smooth. Garnish with parsley, pepitas and yogurt, as desired. Serve immediately.
Nutritional information coming soon
Source: Spoonful of Flavor
// All images and text ©
This post may contain affiliate links.