Easy grilled peppers and onions are the perfect side dish! Combine a few simple ingredients to create this grilled side dish that is prepped in less than 10 minutes.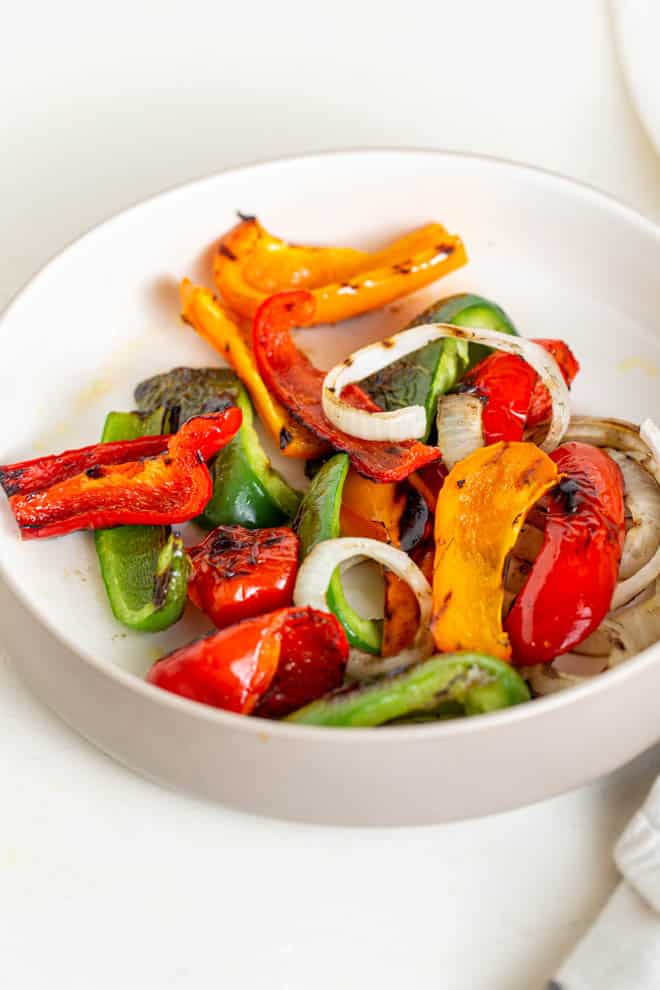 Grilling season is a great season! Fire up your grill and make a few of our favorite grilled recipes. Grilled vegetables are an excellent side dish because they are easy to make and requires only a few minutes of prep. This side dish works well in a small batch for a family or a large batch for dinner parties and gatherings. It's a great last minute side dish to pull together any time of the year.
Grilling peppers and onions
Grill the vegetables in a grill basket. The basket helps to prevent the vegetables from falling through the grates. You can also make a homemade basket out of tin foil.
If you're looking to save time, prep the vegetables in advance by slicing and combining with the olive oil, salt and pepper. Cover and store in the refrigerator for up to 2 days. When you're ready to eat, remove them from the refrigerator, grill and enjoy!
Homemade grill basket with foil
To make a grill basket with tin foil, take one large piece of tin foil. Fold it in half and then fold up 1-inch on all sides to make the edges. Use a fork to poke holes in the bottom of the tin foil to create vents. Place the vegetables on the tin foil and place directly on the grill grates.
You can also grill the vegetables directly on the grill if desired. Cut the onions in large round slices to prevent them from falling through the grates.
Pair this versatile side dish with a variety of meals. We love serving this easy grilled side dish with some of our favorite recipes.
Servings suggestions
Look no further for the perfect grilled side dish. Make this dish any night of the week or meal prep and enjoy them for lunch too. Try this recipe and let us know what you think!
Grilled Peppers and Onions
This easy side dish requires less than 10 minutes of prep and tastes great with a variety of meals.
Ingredients
1 green bell pepper cut into wide strips
1 red bell pepper cut into wide strips
1 yellow bell pepper cut into wide strips
1 white onion or sweet onion cut into wide strips
1 tablespoon extra virgin olive oil
Salt and pepper
Instructions
Preheat a grill to medium-high heat. If using a grill basket, place it on the grill while preheating. Or, fold a large piece of aluminum foil in half and fold up a 1-inch rim around the edge to make a tray. Poke several holes in the bottom of the foil with a fork.

Place the peppers and onions in a bowl with the olive oil, salt and pepper. Mix to coat well.

Grill in the grill basket or foil try for 15 to 20 minutes or until tender, turning the vegetables a few times to ensure even cooking.
Notes
Store leftovers in the refrigerator for up to 2 days.
Nutrition Information
Calories:
65
, Fat:
4g
, Saturated Fat:
1g
, Sodium:
4mg
, Potassium:
218mg
, Carbohydrates:
8g
, Fiber:
2g
, Sugar:
3g
, Protein:
1g
, Vitamin A:
1101%
, Vitamin C:
119%
, Calcium:
13%
, Iron:
1%
*Nutritional information is an estimate. Please consult a doctor or nutritionist for the most accurate nutritional info.
Course: Side Dish
Cuisine: American