Lemon Garlic Grilled Asparagus is a simple side dish made with fresh flavors in under 25 minutes! This grilled asparagus in foil recipe is the perfect side dish for summer.
Grilled asparagus in foil
Have you grilled asparagus? It's so easy and tastes delicious. Today we're sharing this easy grilled asparagus recipe in foil. We add two of our favorite flavors, lemon and garlic to create this easy lemon garlic grilled asparagus.
Serve with grilled lemon pepper chicken and more!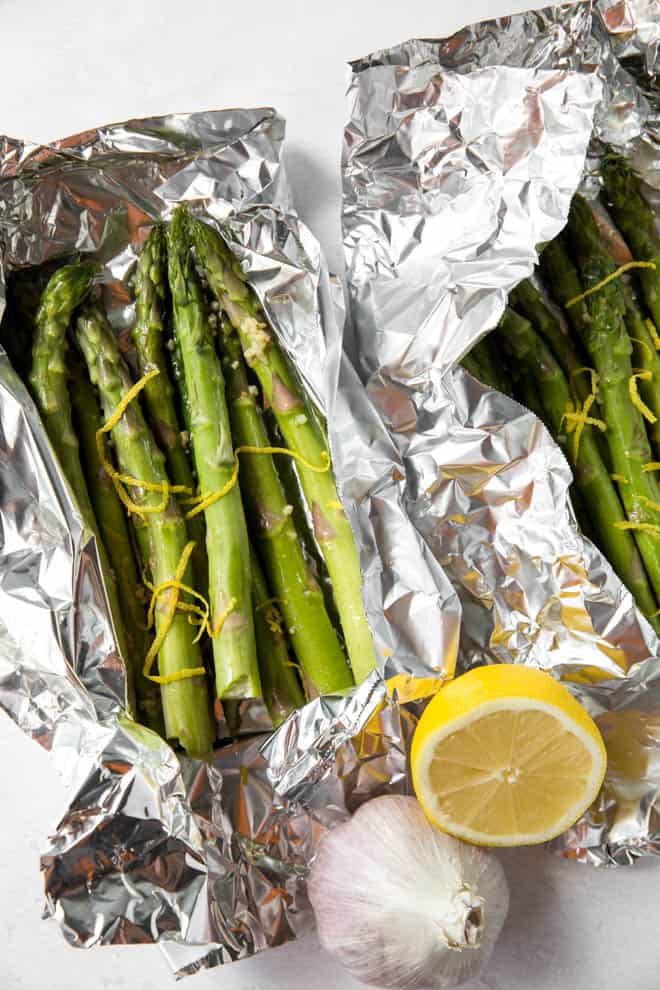 Can you cook asparagus on the grill?
Yes, and it's so easy! You can either cook asparagus in foil packets or directly on the grill. We recommend using the foil packets because it helps lock in the flavor. Asparagus cooked directly on the grill will not have as much flavor as this lemon garlic asparagus in foil. With the packets you don't have to worry about the asparagus falling through the grill grates either.
How to Grill Asparagus
Grilling asparagus is really easy! Place asparagus in a bowl, sprinkle with lemon juice, olive oil and garlic. Toss to coast. Season with salt, pepper and lemon zest. Wrap the asparagus in aluminum foil packets, sealing the ends.
Place the foil packets on a hot grill, directly over the flame. Grill for 10 to 20 minutes, depending on thickness of the asparagus.
You can also grill without the foil, but may need adjust grilling time.
Cooking asparagus in the oven
If you're looking to cook asparagus in the oven instead of on the grill, try our lemon roasted shrimp and asparagus recipe. Or simply roast the asparagus in the oven on a sheet pan at 400 degrees Fahrenheit for 10 to 12 minutes, or until desired doneness.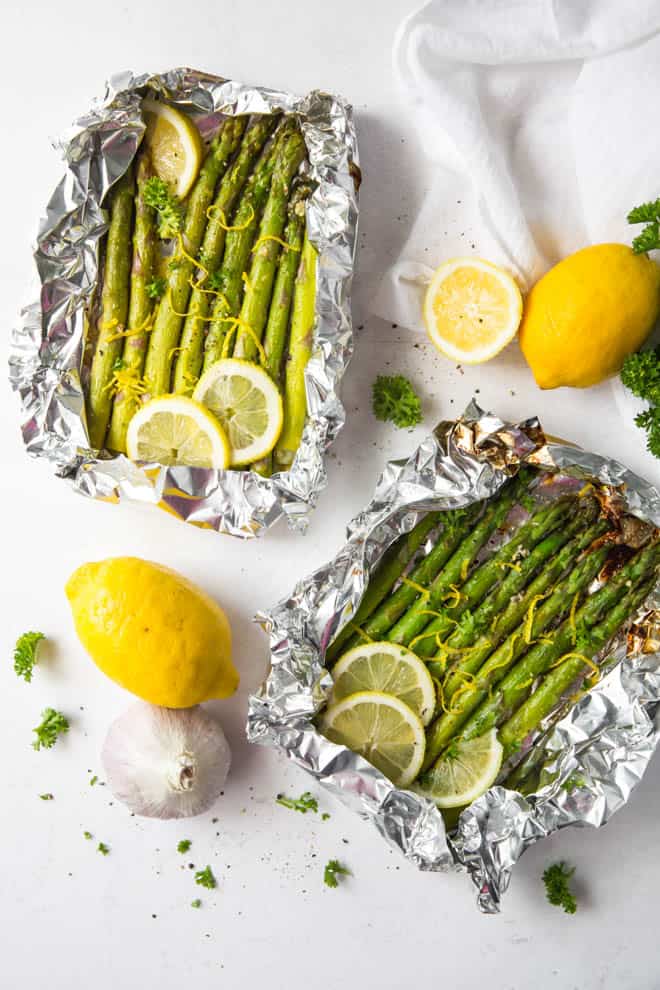 What spices go well with asparagus?
Don't be afraid to experiment with your favorite spices. Asparagus is a vegetable that tastes great with a variety of spices. We love combining the spices with butter or olive oil and a little salt and pepper. What is your favorite flavor combination?
Lemon
Garlic
Italian Seasoning
Garlic Powder
Onion Powder
Paprika or smoked paprika
Thyme
Lemon Pepper
Dill
Fennel
What should I serve with asparagus?
Asparagus is a great addition to any meal. We love serving asparagus with chicken, beef or seafood. Grilled lobster tail, broiled scallops, lemon garlic shrimp, peanut grilled chicken kebabs, grilled chicken pesto sandwich and lemon pepper chicken drumsticks are a few of our favorite dishes to serve with asparagus.
We love eating asparagus and grilling it is no exception! Try a few of our other favorite grilled vegetable recipes.
Other grilled vegetables
If you try this grilled asparagus recipe, don't forget to come back here and let us know what you think by leaving a comment and review below.
Lemon Garlic Grilled Asparagus
Yield: 4 servings
Lemon Garlic Grilled Asparagus in foil is a simple side dish made with fresh flavors in under 25 minutes!
Ingredients
1 pound asparagus, trimmed
2 tablespoons lemon juice
1 tablespoon olive oil
3 cloves garlic, minced
lemon zest
kosher salt, to taste
ground black pepper, to taste
Instructions
Preheat grill on medium heat.

Place asparagus in a large shallow bowl. Sprinkle with lemon juice, olive oil and minced garlic, tossing to coast. Sprinkle on lemon zest, then season with salt and pepper.

Divide the asparagus between two large squares of aluminum foil. Wrap up the foil, pinching the ends to seal.

Place foil packets on the grill, directly over flame. Grill for 10 to 20 minutes, depending on thickness of asparagus, or to desired doneness.
Nutrition
Calories: 59kcal, Carbohydrates: 6g, Protein: 3g, Fat: 4g, Saturated Fat: 1g, Sodium: 3mg, Potassium: 238mg, Fiber: 2g, Sugar: 2g, Vitamin A: 855IU, Vitamin C: 10mg, Calcium: 31mg, Iron: 2.4mg
If you try this recipe, don't forget to leave a review below or share a photo and tag @spoonfulofflavor on Instagram.