These easy Broiled Scallops are cooked until golden brown and are bursting with garlic butter flavor. They are perfect as an appetizer for any party of gathering or can be served as a main course with your favorite side dish.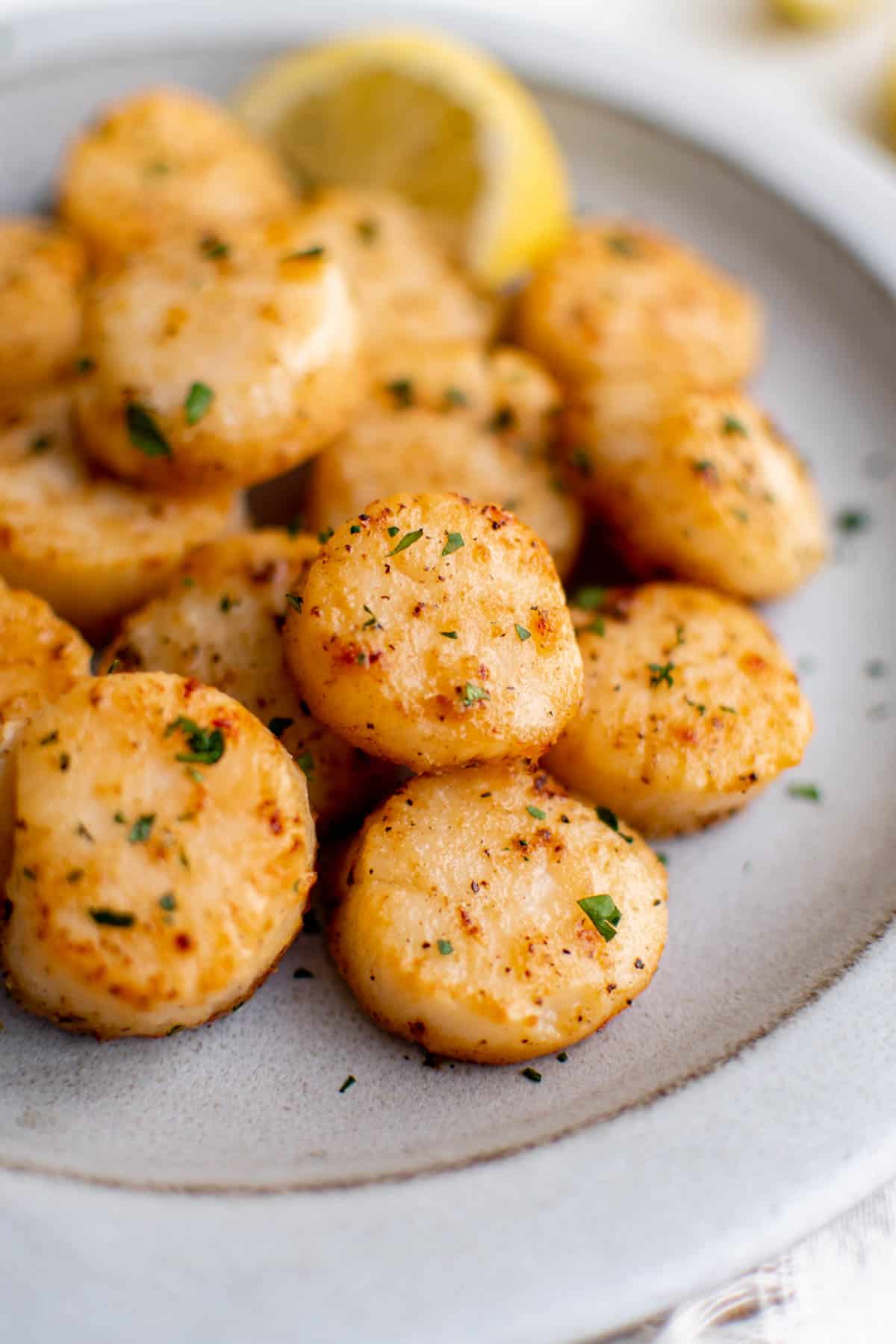 If you're looking for a tasty and easy seafood dish that's low in carbs with a rich butter and garlic flavor, you'll love making these broiled scallops! With just a few simple ingredients, you can have perfectly cooked scallops on the table in no time.
Scallops are a low carb food and are a great source of protein. Cook them in a variety of ways – fry them, bake them or even broil them.
Broiling is one of the best ways to cook fresh scallops. It's quick and easy and gives the scallops a nice sear while keeping them juicy on the inside.
Why You'll Love This Recipe
Scallops are a decadent seafood choice that is easy to cook.
Broiling scallops brings out their natural sweetness and enhances their flavor.
They take just 5 minutes to broil to perfection.
Customize the flavor by changing up the seasonings to whatever fits your meal.
Ingredients You Need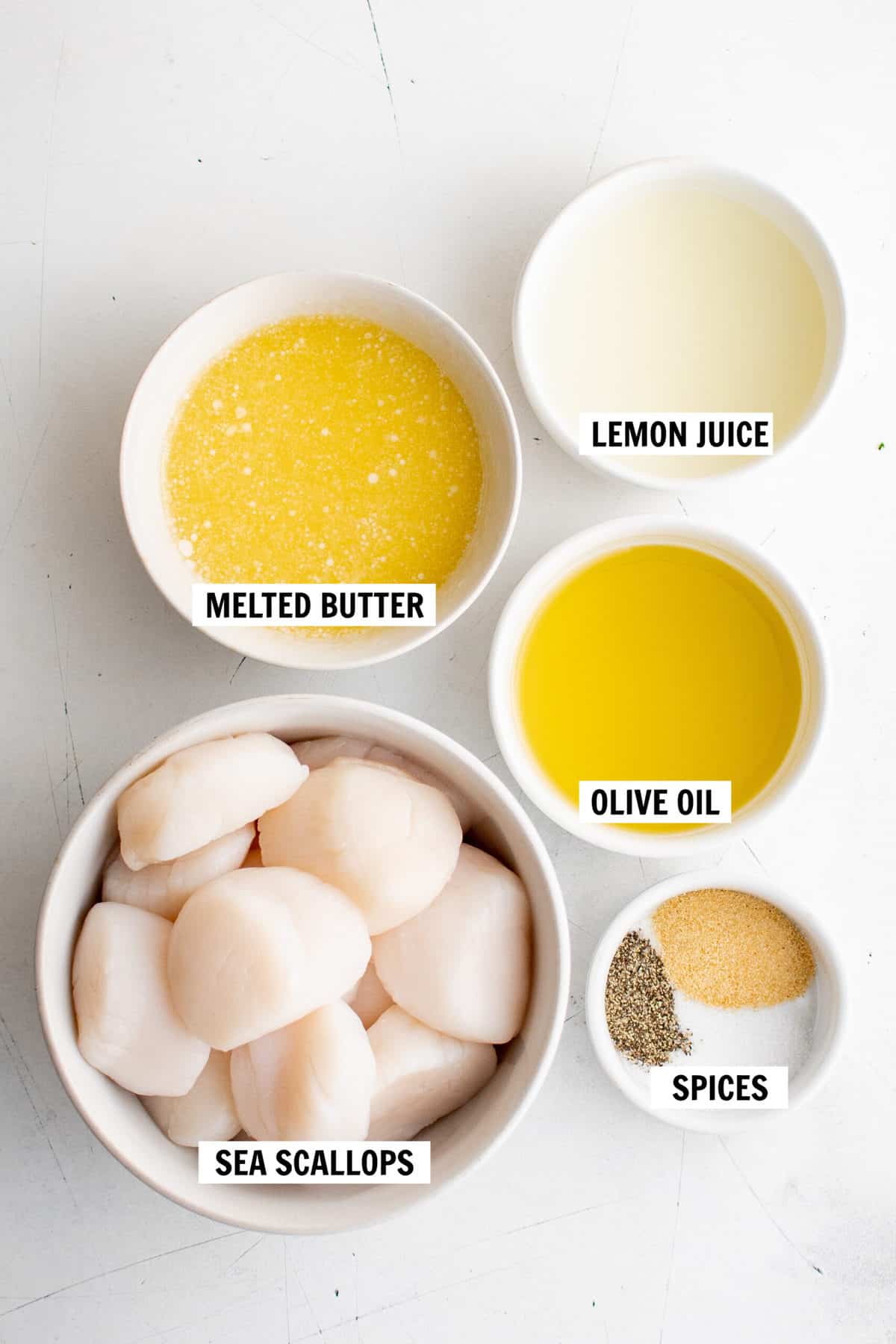 Lemon Juice – Use freshly squeezed lemon juice for the best flavor.
Melted Butter – Unsalted butter is preferred, but you can use salted butter and reduce the amount of additional salt added to season the scallops. You can substitute half of the butter with olive oil, if desired.
Garlic Powder – For a hint of garlic flavor. You can substitute the garlic powder and salt with garlic salt in a pinch.
Salt and Black Pepper – Enhances the flavor of the scallops.
Scallops – Use fresh sea scallops or frozen (then thawed) sea scallops for this recipe. Sea scallops are much larger than bay scallops. If you decide to use bay scallops for this recipe, you will need to adjust the cook time down as they cook much faster.
Garnish – Freshly chopped parsley adds a pop of green color and a layer of fresh taste.
How to Make Easy Broiled Scallops
Prepare for broiling: Preheat your oven to broil and place your oven rack in the middle of the oven.
Create the garlic butter marinade: In a medium-sized bowl, add the melted butter, lemon juice, garlic powder, salt and black pepper. Whisk until fully combined.
Prepare the scallops: Thaw scallops completely, if frozen. Pat the scallops completely dry with a paper towel.
Broil and serve: Add the scallops to a sheet pan lined with aluminum foil in a single layer (or arrange them in the bottom of a rectangular baking dish.) Drizzle half of the marinade over the top. Broil in the oven for 5 to 6 minutes, then drizzle the remaining sauce on to and cook until the tops are golden brown, about 1 to 4 extra minutes.
Cook time: Depending on the size of your scallops, you may need to adjust the cook time. Colossal scallops – 13 per pound need about 10 minutes of total cook time. Smaller scallops will need less time, so check after 6 minutes. They should be golden brown and cooked through.
Expert Cooking Tips
Thaw scallops completely before using. If you're using frozen scallops, it's important to make sure they are thawed completely. This will ensure that no moisture is trapped in the scallop that would make them steam in the oven instead of roast.
Pat the scallops dry completely with paper towels before seasoning. This will help to ensure that the seasoning sticks properly which will lead to that golden brown top and delicious flavor.
Let the scallops sit out at room temperature for 12 to 15 minutes before broiling. This will help prevent them from being "shocked" in the oven by the high heat which may cause the meat to tense up and become tough.
Prep ahead – If you want to make this broiled scallops recipe ahead of time, you can prepare the scallops in the garlic butter marinade and store them in the refrigerator for up to 12 hours.
Sprinkle Parmesan cheese on top – For more flavor, you can sprinkle Parmesan cheese on top just before or after baking.
Serving Suggestions
FAQs
What type of scallops should I buy?
When you're at the grocery store or fish market, you'll likely find two types of scallops: sea scallops and bay scallops. Bay scallops are much smaller than sea scallops and have a sweeter flavor. They cook quickly and are best served as an appetizer or part of a salad. Sea scallops are preferred for this recipe.
Should scallops be rinsed before cooking?
It's not necessary to rinse scallops before cooking as long as they've been properly cleaned. If you're concerned about the being sandy, you can give them a quick rinse under water. Just make sure to pat them dry completely with paper towels before broiling.
What temperature do you broil scallops?
Broil scallops on high heat, about 500 degrees Fahrenheit. This will help them cook quickly and evenly so that they are perfectly browned on the outside and tender on the inside.
Did you try this broiled scallops recipe? Leave a recipe rating and review below.
Broiled Scallops
Yield: 15 scallops
These easy broiled scallops come together in 20 minutes or less!
Ingredients
6 tablespoons melted unsalted butter
2 tablespoons lemon juice, freshly squeezed
1/2 teaspoon garlic powder
1/2 teaspoon salt
1/4 teaspoon ground black pepper
1 pound sea scallops, fresh or frozen then thawed and dried very well
Freshly minced parsley and lemon wedges , for serving
Instructions
Preheat your oven to broil and place your oven rack in the middle.

Stir the melted butter, lemon juice, garlic powder, salt and pepper together in a medium bowl.

Place a sheet of tin foil on a medium sheet pan then arrange the scallops on the sheet pan and drizzle half of the sauce on top.

Broil for 6 minutes then remove the pan from the oven and drizzle the remaining sauce on top.

Broil for another 1 to 4 minutes or until the tops are golden brown and the scallops are cooked through.

Serve with freshly minced parsley and lemon wedges, if desired.
Notes
Storing: Broiled scallops are best served immediately. If you happen to have any leftovers store them in an airtight container in the refrigerator for up to 24 hours. This recipe is not freezer-friendly and scallops do not freeze well therefore freezing is not recommended. Reheating: To reheat leftover scallops, place them on a baking sheet and broil for about 30-60 seconds or until warmed through. You can also reheat them in the microwave, but they may become slightly tough.
Nutrition
Calories: 62kcal, Carbohydrates: 1g, Protein: 4g, Fat: 5g, Saturated Fat: 3g, Polyunsaturated Fat: 1g, Monounsaturated Fat: 1g, Trans Fat: 1g, Cholesterol: 19mg, Sodium: 197mg, Potassium: 67mg, Fiber: 1g, Sugar: 1g, Vitamin A: 141IU, Vitamin C: 1mg, Calcium: 4mg, Iron: 1mg
If you try this recipe, don't forget to leave a review below or share a photo and tag @spoonfulofflavor on Instagram.
Other Seafood Recipes