This easy recipe for Roasted Potatoes and Broccoli is simple to follow and requires less than 15 minutes of prep! Potatoes and broccoli are the perfect vegetable pairing, providing a balance of both textures and flavors. This delicious side dish is packed with nutrients and can be served with any main course.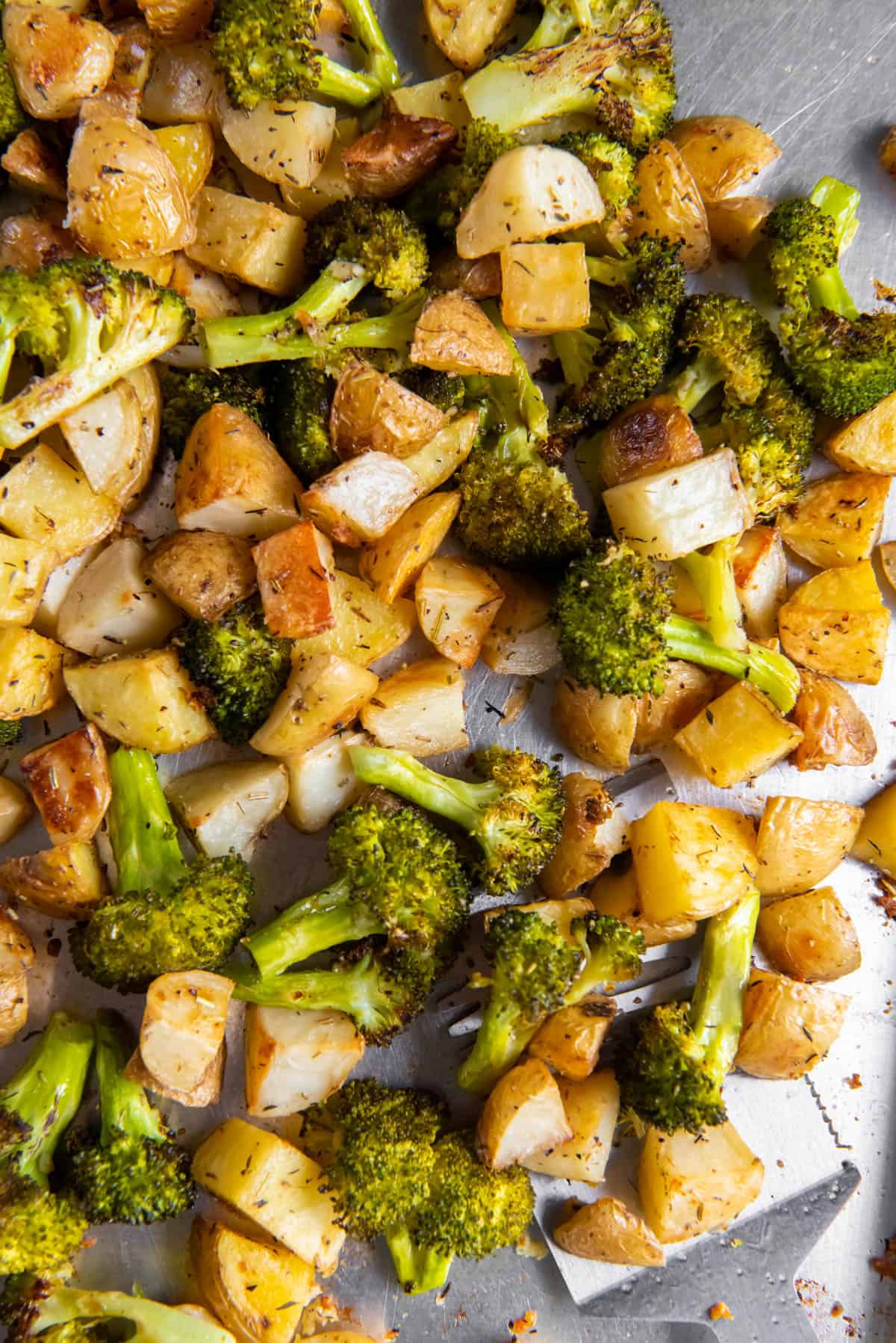 If you're looking for a healthy side dish that goes good with anything, you need to make these simple roasted potatoes and broccoli!
The combination of these two vegetables is a great match because the roasted broccoli adds a healthy green vegetable with plenty of nutrients while the roasted potatoes add a hearty starch. This side dish is versatile and can be served with any protein for a complete meal.
This dish is perfect for busy weeknights or meal prep because it's so quick and easy to make. Chop the veggies then season then with dried herbs and spices. Roast the potatoes first to give them a head start, then add the broccoli and roast until both vegetables are crispy and fork tender.
Serve these roasted vegetables in a variety of different ways. Try them with grilled lemon pepper chicken, pan seared steak, broiled scallops, baked salmon patties or turkey tenderloin. No matter how you serve them, this easy side dish recipe is sure to be a hit.
Why You'll Love This Recipe
The vegetables roast on one sheet pan making clean up easy.
You can easily customize the flavor by using your favorite dried seasonings.
Make them for a weeknight dinner or as part of a holiday feast.
The recipe is naturally gluten free and suitable for anyone.
Ingredients You Need
Gold Potatoes – Yukon gold potatoes are yellow inside and have a creamy and buttery texture that is natural and perfect for roasting. They also cook quicker than other potatoes. You can substitute with red potatoes or baby potatoes, if desired.
Broccoli – Fresh broccoli adds the perfect amount of crunch and nutrients to this dish.
Extra Virgin Olive Oil – You can substitute with avocado oil.
Fresh Garlic Cloves – Gives the vegetables a bold garlic flavor that pairs well with potatoes and broccoli. If you don't have fresh garlic, you can substitute with 3/4 teaspoon of garlic powder.
Salt and Pepper – Balances the natural taste of the veggies and helps enhance the seasonings.
Onion Powder – Adds a light onion flavor to the mixture.
Thyme and Rosemary – You can use fresh or dried herbs. Or try parsley, rosemary or basil.
Grated Parmesan Cheese (Optional) – You can also add shredded cheddar cheese, crumbled goat cheese or grated Asiago cheese.
How to Make Roasted Potatoes and Broccoli
Prepare for baking – Preheat your oven to 400 degrees Fahrenheit. Get out a large baking sheet and set aside.
Prepare the vegetables – Wash the broccoli and potatoes thoroughly. Chop the potatoes into 1-inch bite size pieces and chop the broccoli into florets that are roughly the same size.
Mix the seasonings – In a small bowl, add the salt, pepper, onion powder, thyme and chopped garlic. Mix together until fully combined.
Season the vegetables – Add the chopped potatoes to a large mixing bowl, then drizzle them with half of the seasoning mixture until well coated.
Roast the potatoes – Arrange the seasoned potatoes on the rimmed baking sheet in a single layer. Cook for 25 minutes tossing halfway with a spatula.
Add the broccoli – Toss the prepared broccoli florets with the rest of the seasonings until coated, then add them to the sheet pan with the par-cooked potato in a single layer on the other side. Roast for an additional 20 to 25 minutes, tossing halfway. Remove from the oven when the vegetables are cooked through to fork-tender.
Garnish and serve – Remove from the oven and season with grated parmesan cheese, if desired. Serve hot and enjoy!
There is no need to boil the potatoes before roasting and the temperature is high enough to cook them all the way through. Just make sure they're cut into even-sized pieces so they cook evenly.
Expert Tips
Add a piece of parchment paper to the sheet pan before adding the seasoning vegetables. This will help with clean up.
Chop the potatoes and broccoli into roughly the same size to ensure everything cooks evenly.
Use golden potatoes for the best results, as they are a bit softer and cook quicker than most potatoes.
If you prefer crispy potatoes, cook the potatoes for an extra five minutes before adding the broccoli to the pan.
Use other vegetables – Add chopped cauliflower, Brussels sprouts, carrots or sweet potatoes.
Add a bit of zest and freshness to the dish by adding freshly squeezed lemon juice on top before serving.
Other Roasted Vegetables Recipes
Did you try this Roasted Potatoes and Broccoli recipe? Leave a recipe rating and review below.
Roasted Potatoes and Broccoli
Yield: 6
An easy side dish made with potatoes, broccoli and a few simple seasonings.
Ingredients
1 1/2 pounds gold potatoes, cut into 1-inch pieces
1 pound broccoli
2 tablespoons extra virgin olive oil
3 cloves garlic, minced
1 teaspoon kosher salt
1/2 teaspoon onion powder
1/2 teaspoon dried rosemary
1/2 teaspoon dried thyme
1/2 teaspoon freshly ground black pepper
1/4 cup grated Parmesan cheese, (optional)
Instructions
Preheat the oven to 400 degrees F. Stir the minced garlic into the olive oil. Combine the salt, onion powder, rosemary, thyme, and pepper in a small bowl and mix well. Rinse the potatoes and broccoli and dry well.

Cut potatoes into 1-inch pieces and place in a large mixing bowl. Drizzle them with half of the olive oil, then sprinkle on half of the seasoning and toss to combine. Spread the potatoes on the baking sheet and roast in the oven for 25 minutes, tossing once during the cook time.

Meanwhile, chop the broccoli into florets, cutting large ones in half, and place them in the empty bowl. Drizzle them with remaining olive oil, then sprinkle on the rest of the seasoning and toss.

When the 25 minutes is up, remove the baking sheet from the oven. Toss the potatoes and move them to one side of the baking sheet. Spread the broccoli on the other side.

Return the baking sheet to the oven and roast for another 20-25 minutes, tossing once halfway through the cook time, until the vegetables are fork tender and charred in some spots. Immediately toss with Parmesan cheese (if using) and serve.
Notes
Storing: To store any leftovers, allow the dish to cool completely before transferring it to an airtight container. It will keep in the fridge for up to four days. Freezing: This recipe can also be frozen, although the potatoes and broccoli may become slightly mushy when reheated. To freeze, allow the dish to cool completely before transferring it to a freezer-safe container. It will keep for up to three months. When you're ready to eat, simply reheat in the oven or microwave until warmed through.
Nutrition
Calories: 175kcal, Carbohydrates: 26g, Protein: 6g, Fat: 6g, Saturated Fat: 1g, Polyunsaturated Fat: 1g, Monounsaturated Fat: 4g, Cholesterol: 4mg, Sodium: 493mg, Potassium: 735mg, Fiber: 5g, Sugar: 2g, Vitamin A: 514IU, Vitamin C: 90mg, Calcium: 92mg, Iron: 2mg
If you try this recipe, don't forget to leave a review below or share a photo and tag @spoonfulofflavor on Instagram.