One Pot Supreme Pizza Quinoa Casserole is a great way to get your pizza fix, but in a healthier and more wholesome way. You'll love how easy and how quick this one pot meal is to make!
Hi friends! Danae from Recipe Runner here today and I'm so excited to be back sharing monthly recipes with you this year! I can't believe this will be my 3rd year doing guest posts on Ashley's wonderful (and beautifully redesigned) blog.
To start the year off, even though January is nearly over, which is crazy, I'm sharing an easy one pot dinner. One pot supreme pizza quinoa casserole is perfect for that pizza craving, when you want something a little less greasy and a little more wholesome.
I don't know about you guys, but I get a pizza craving at least twice a week. Usually once on the weekend and then again during the week when I'm not in the mood to make dinner. Ordering a pizza is such a tempting idea when you don't want to cook, but when each slice is packing nearly 300 calories and you know you'll eat at least 2 or 3 slices, it's probably best to come up with an alternative.
My alternative is to make healthier "imposter" versions of the foods I love and to make them as quick and easy as possible to get on the table. The faster they're on the table and in my mouth, the less time I have to think about picking up the phone and ordering that pizza.
The idea for this One Pot Supreme Quinoa Casserole came from popular Turkey Taco Quinoa Skillet recipe that I shared here last January. It seemed only fitting to come up with a new version this year.
What's great about this pizza version is you can customize the toppings to what you and your family like. I chose to use Italian turkey sausage, bell pepper, red onion and black olives. Not a fan of olives? Use mushrooms instead. Want to make it vegetarian? Just omit the sausage.
The most important part of this recipe is making your own pizza sauce. This sauce is what I use for all my red sauce based pizza recipes. I love making my own because the flavor is far superior than anything you'll buy in the store and it's made with simple ingredients that you probably already have.
Forget dialing your favorite pizza place this week and try making this healthier and far more filling One Pot Supreme Pizza Casserole instead!
Other Quinoa Skillet Dinners
One Pot Supreme Pizza Quinoa Casserole
Yield: 6 servings
One Pot Supreme Pizza Quinoa Casserole is a great way to get your pizza fix, but in a healthier and more wholesome way. You'll love how easy and how quick this one pot meal is to make!
Ingredients
2 italian turkey sausages, , casings removed
1/2 cup diced red onion
1/2 cup green bell pepper
1 clove garlic, , minced
2 cups baby spinach
2.25 ounce can sliced black olives
8 ounce can tomato sauce
6 ounce can tomato paste
2 teaspoons dried basil
2 teaspoons dried oregano
1 teaspoon parsley
1/4 teaspoon garlic powder
pinch of red pepper flakes, (optional)
1 cup water
1 cup uncooked quinoa, rinsed
3/4 cup shredded part skim mozzarella cheese
Instructions
Over medium-heat spray a large skillet with cooking spray.

Add the sausage to the skillet and crumble with a wooden spoon.

When the sausage is cooked add in the red onion, bell pepper, minced garlic, spinach and olives.

Sauté for a couple minutes until the vegetables start to soften.

Add in the basil, oregano, parsley, garlic powder, red pepper flakes, tomato paste and tomato sauce and stir until everything is combined.

Add in the quinoa and water and stir to combine.

When the mixture starts to bubble, cover with a lid and cook on medium low heat for approximately 20 minutes or until the quinoa is cooked and the liquid is absorbed.

Top with the mozzarella cheese and cover with the lid cooking another minute or until the cheese is melted.

Serve immediately.
Nutrition
Calories: 256kcal, Carbohydrates: 29g, Protein: 15.1g, Fat: 9.2g, Saturated Fat: 1.9g, Polyunsaturated Fat: 0.1g, Monounsaturated Fat: 0.6g, Cholesterol: 30.5mg, Sodium: 623.9mg, Potassium: 186.2mg, Fiber: 4.7g, Sugar: 5.4g, Vitamin A: 1565IU, Vitamin C: 28.4mg, Calcium: 162mg, Iron: 4.3mg
If you try this recipe, don't forget to leave a review below or share a photo and tag @spoonfulofflavor on Instagram.
Kitchen tools used in this supreme pizza quinoa casserole recipe:
Skillet – This inexpensive stainless steel skillet is the one I use in most of my skillet recipes.
Wooden Spoons – I love these olive wood spoons!
Chef's Knife – A chef's knife makes cutting the onions and peppers easy!
More One Pot Meals
One Pot Cheesy Mexican Lentils, Black Beans and Rice
One Pot Creamy Chicken and Asparagus Casserole
Turkey, Broccoli and Swiss Skillet Dinner
One Pot Lemon Chicken Tortellini Soup with Greens 
Connect with Danae: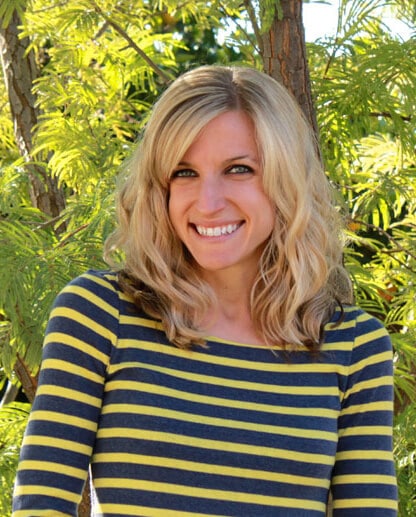 Blog | Facebook | Twitter | Instagram | Pinterest
This post may contain affiliate links.