Make the best homemade baba ganoush with this simple recipe made with a few ingredients. Also known as baba ghanouj, this healthy flavorful dip recipe is made with roasted eggplant, olive oil, tahini, lemon juice and garlic.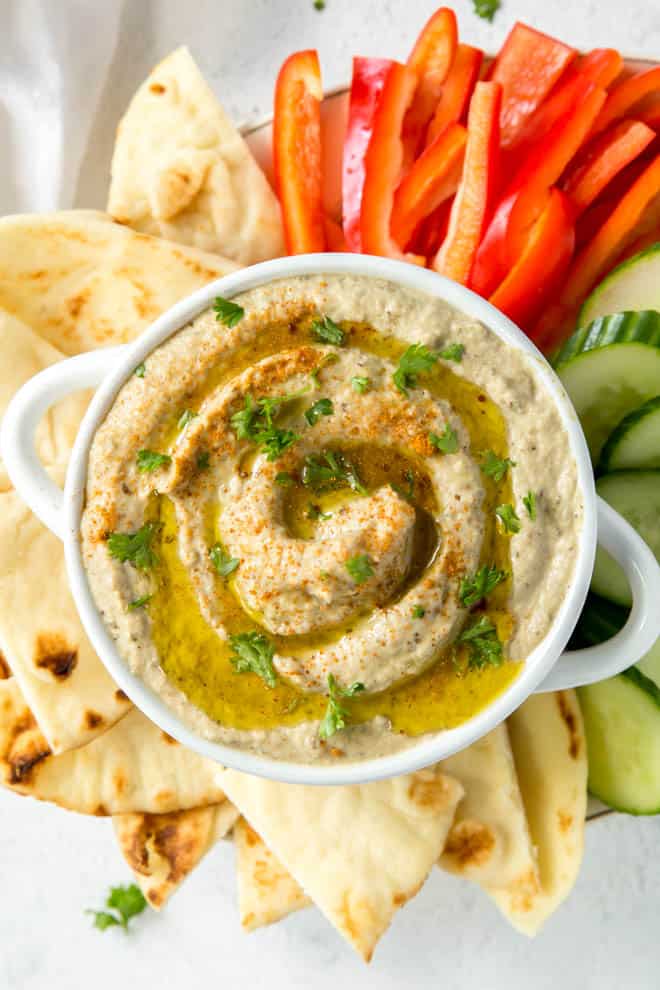 Homemade dips are one of our favorite healthy snacks. This easy dip is a versatile dish that tastes great with a variety of meals. Serve it as a snack or serve it as an appetizer or side dish for dinner. The options are endless to enjoy this tasty Mediterranean spread packed with flavor!
What is baba ganoush?
Baba ganoush is a thick dip or sauce that is made from cooked eggplant, olive oil, lemon juice, tahini and garlic. It's common in Eastern Mediterranean cuisine and has a similar texture to hummus.
It is often served as a dip with fresh vegetables, bread or crackers. You can also serve it as a spread on sandwiches and more.
How to make baba ganoush
Combine a few simple ingredients together with cooked eggplant to make this homemade dip. We like to roast the eggplant for this recipe.
First, roast the eggplant.
Next, add the cooled eggplant to a food processor with tahini, lemon juice, garlic, salt and olive oil.
Serve the spread or dip with sliced bell peppers, carrots, cucumbers, pita, Naan and/or crackers.
Tips for making
Cook the eggplant any way you like. We recommend roasting or grilling the eggplant for the best flavor.
You can freeze this recipe but we don't recommend it because eggplant does not freeze well.
Use high quality olive oil and always freshly squeezed lemon juice for the best flavor.
This dish is nutritious and relatively low in calories so it makes a great snack. It's a good source of vitamins, minerals and heart-healthy fat.
Serve with homemade Pita Chips.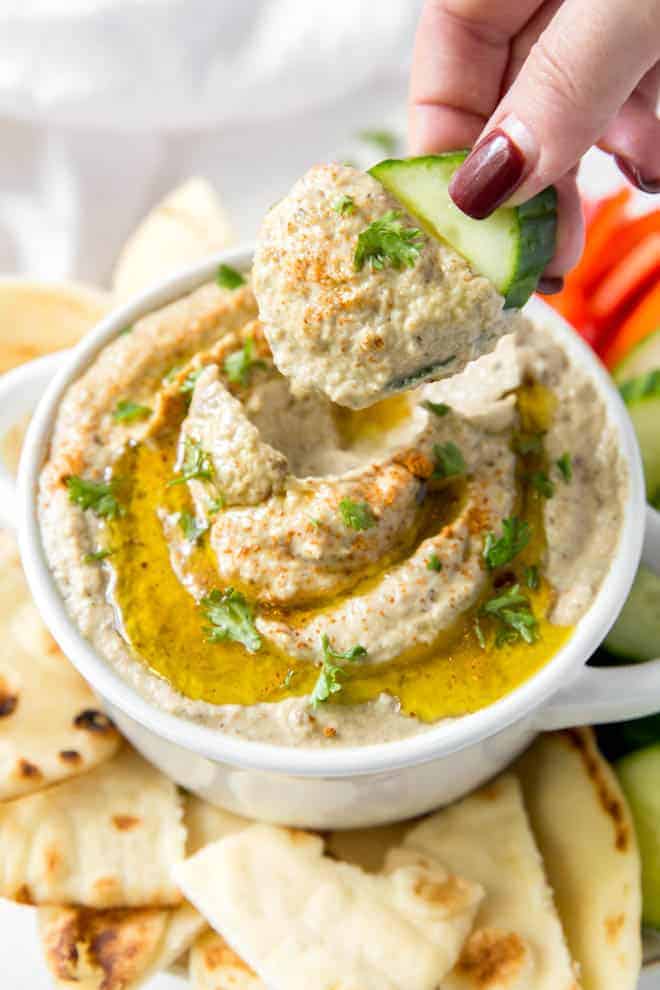 This recipe is one of our favorite go-to healthy snacks. If you love easy dip recipes, try our homemade guacamole or buffalo chicken dip too.
Try this recipe and let us know what you think. We know you're going to love it!
Best Baba Ganoush
This simple recipe is made with roasted eggplant and a few simple ingredients.
Ingredients
2 pounds eggplant preferably small eggplants
3 tablespoons extra virgin olive oil divided plus more for garnish
1/3 cup tahini stirred
1/4 cup freshly squeezed lemon juice
3 cloves garlic crushed
kosher salt to taste
Fresh parsley for garnish
Paprika for garnish
Instructions
Preheat the oven to 450 degrees F. Line a rimmed baking sheet with foil and set aside.

Cut eggplants in half, rub the cut side with 1 tablespoon of olive oil and place face down on the prepared baking sheet. Roast eggplant until the insides are tender, about 25 to 30 minutes.

Allow the eggplant to cool slightly and then scoop out the insides of the eggplant, discarding the skin. Place the insides in a food processor along with tahini, lemon juice, garlic and salt. Process until smooth but still thick. With the processor running, slowly drizzle in the remaining olive oil and process until well mixed.

Transfer to a bowl and garnish with a drizzle of olive oil, parsley and a sprinkle of paprika. Serve with sliced bell peppers, carrots, cucumbers, pita, Naan and/or crackers.
Notes
Store in the refrigerator for up to 3 days.
Nutrition Information
Calories:
183
, Fat:
14g
, Saturated Fat:
2g
, Sodium:
8mg
, Potassium:
424mg
, Carbohydrates:
13g
, Fiber:
5g
, Sugar:
6g
, Protein:
4g
, Vitamin A:
44%
, Vitamin C:
8%
, Calcium:
35%
, Iron:
1%
*Nutritional information is an estimate. Please consult a doctor or nutritionist for the most accurate nutritional info.
Course: Appetizer, Side Dish
Cuisine: Mediterranean