If you're looking for an easy chocolate brownie made in a mug, then you're going to love this recipe. Mug Brownie made in the microwave is a quick and easy way to satisfy your chocolate craving. This dessert is ready in only 5 minutes and makes a large serving for one or two!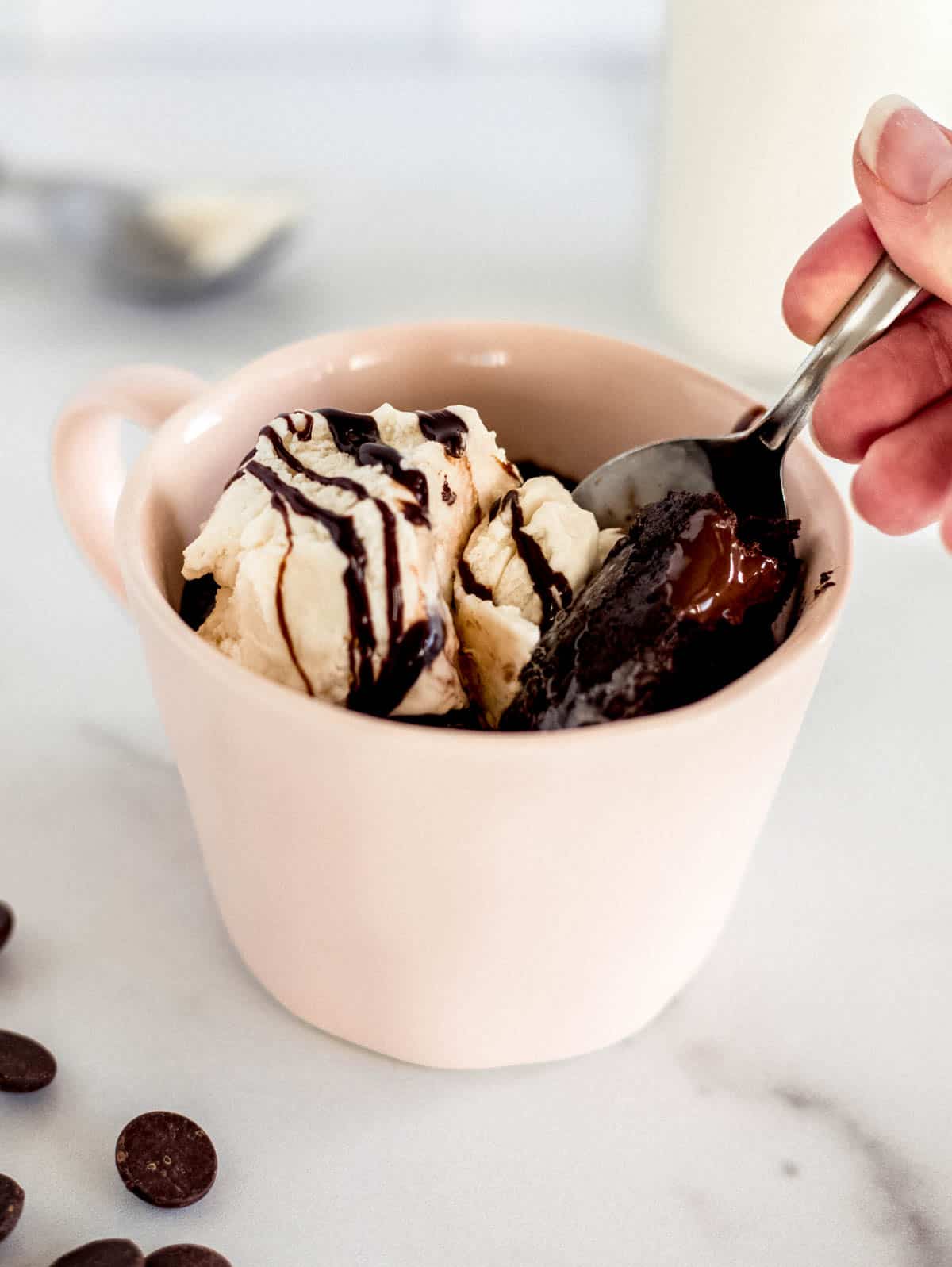 Quick and easy is sometimes just what you need for a dessert. Haley here from If You Give a Blonde a Kitchen and today I'm sharing my recipe for a brownie in a mug. It's a dessert for one (or even two) that is ready in 5 minutes! The fudgy, chocolate mug brownie tastes delicious with a scoop of vanilla ice cream and drizzle of chocolate syrup.
Although this brownie is cooked in a mug, it has the same texture as a regular brownie. This fudgy brownie is the perfect single serving brownie anytime. No bowl is needed as everything mixes together in a mug.
This mug brownie is one of the quickest and most delicious brownie recipes. It's the perfect late night treat for the chocolate lover!
Ingredients for Chocolate Mug Brownie
To make this mug brownie recipe, you'll need a few ingredients that are likely already in your kitchen.
All Purpose Flour: You can substitute with a 1:1 all purpose gluten free flour made with xanthan gum to make this recipe gluten free.
Sugar: White granulated sugar is recommended for the best texture and flavor. If you use brown sugar, it may alter the flavor of the brownies.
Cocoa Powder: Standard or dutch processed cocoa powder works.
Salt: All you need is a pinch.
Butter: You can substitute with coconut oil to make it vegan, although the flavor will vary slightly. You can use standard vegetable oil, but we always recommend butter or coconut oil.
Water or Milk: Use milk for the best texture and flavor, but water works fine too.
Vanilla: Adds flavor.
Chocolate Chips: Semi-sweet chocolate chips are best, but you can use milk chocolate, dark chocolate or white chocolate chips, if desired.
To make this brownie in a mug recipe vegan and dairy free, use coconut oil instead of butter and vegan chocolate chips.
How to Make a Brownie in a Mug
Once you have your ingredients, you can make your brownie in a mug in less than 5 minutes! Make sure you use a microwave-safe mug before mixing your ingredients.
First, whisk dry ingredients. Whisk together the flour, sugar, cocoa powder and pinch of salt.
Add wet ingredients. Pour melted butter, water or milk and vanilla into the mug and stir just until combined. DO NOT over mix. Stir for 8 to 10 seconds.
Next, fold in the chocolate chips. Two or three stirs is good.
Bake the brownie batter in the microwave. Microwave the mug for 60 to 90 seconds until the brownie is fully baked. The top will look baked and set.
Ice cream, chocolate syrup and whipped cream are optional garnishes for this mug brownie.
Brownie Mug Cake Tips
Use a large mug (at least 14 ounces) so the contents do not spill over during the mixing and baking process.
You can use water or milk for the liquid in this recipe. The milk adds slightly more flavor, but either works great.
Cook time is calculated for a standard 1200 watt microwave. Cook time may vary depending on wattage. We suggest cooking it for 60 seconds, then check for doneness before cooking for another 30 seconds.
Let the brownie cool in the microwave for 5 minutes before eating. The mug will be hot!
Add peanut butter. You can add a scoop of peanut butter to the mug with the mixture, stir once and cook. This creates a gooey peanut butter filling.
If you want to save some or all of the mug brownie for later, cover and store at room temperature. You can reheat for 10 to 15 seconds before consuming.
Easy Chocolate Desserts
Did you make this mug brownie recipe? Leave a recipe rating and review below!
Microwave Mug Brownie
Yield: 1 brownie
If you're looking for an easy chocolate brownie made in a mug, then you're going to love this recipe. This dessert is ready in only 5 minutes!
Ingredients
3 tablespoons all-purpose flour
3 tablespoons granulated sugar
2 tablespoons unsweetened cocoa powder
pinch of salt
2 tablespoons unsalted butter, melted (or coconut oil)
3 tablespoons water, (or milk)
1/2 teaspoon pure vanilla extract
2 tablespoons semisweet chocolate chips
vanilla ice cream and chocolate syrup for garnish, (optional)
Instructions
In a microwave safe mug, whisk together flour, sugar, cocoa powder and salt.

Add melted butter, water and vanilla extract. Stir until mixture is smooth, about 10 seconds (avoid over mixing). Fold in chocolate chips.

Microwave mug on full power for 60 to 90 seconds. Brownie is done when the top is completely cooked. Allow to cool 5 minutes then serve with vanilla ice cream and chocolate syrup if desired.
Notes
Nutritional information does not include ice cream or chocolate syrup.
This is a large serving. You can easily split this dessert into two servings. 
Nutrition
Calories: 624kcal, Carbohydrates: 75g, Protein: 6g, Fat: 36g, Saturated Fat: 22g, Cholesterol: 62mg, Sodium: 208mg, Potassium: 323mg, Fiber: 6g, Sugar: 47g, Vitamin A: 700IU, Calcium: 31mg, Iron: 4mg
If you try this recipe, don't forget to leave a review below or share a photo and tag @spoonfulofflavor on Instagram.