Learn how to make perfectly Sautéed Mushrooms and Onions for steaks, burgers, and just about anything else! With these step-by-step instructions, you'll make restaurant-quality (never soggy) mushrooms and onions every time.
Have you ever wondered what it is about mushrooms and onions from steakhouses and burger spots that makes them taste so good? This recipe will show you how to saute a gorgeous batch of mushrooms and onions like the pros to serve alongside juicy cuts of steak and piled-high on burgers.
These sautéed onions and mushrooms have simple ingredients with big flavors. With a dynamic blend of umami flavor you can serve them as a side dish to make your favorite meals even better.
Why You'll Love This Recipe
You'll learn to saute mushrooms and onions without making a mushy mess.
This recipe is an easy side dish that pairs well with practically everything!
This is the BEST way to make sautéed mushrooms and onions for steaks and burgers.
It's an easy and healthy gluten-free side dish.
Ingredients You Need
This recipe comes together with fresh mushrooms, onions and a few pantry seasonings.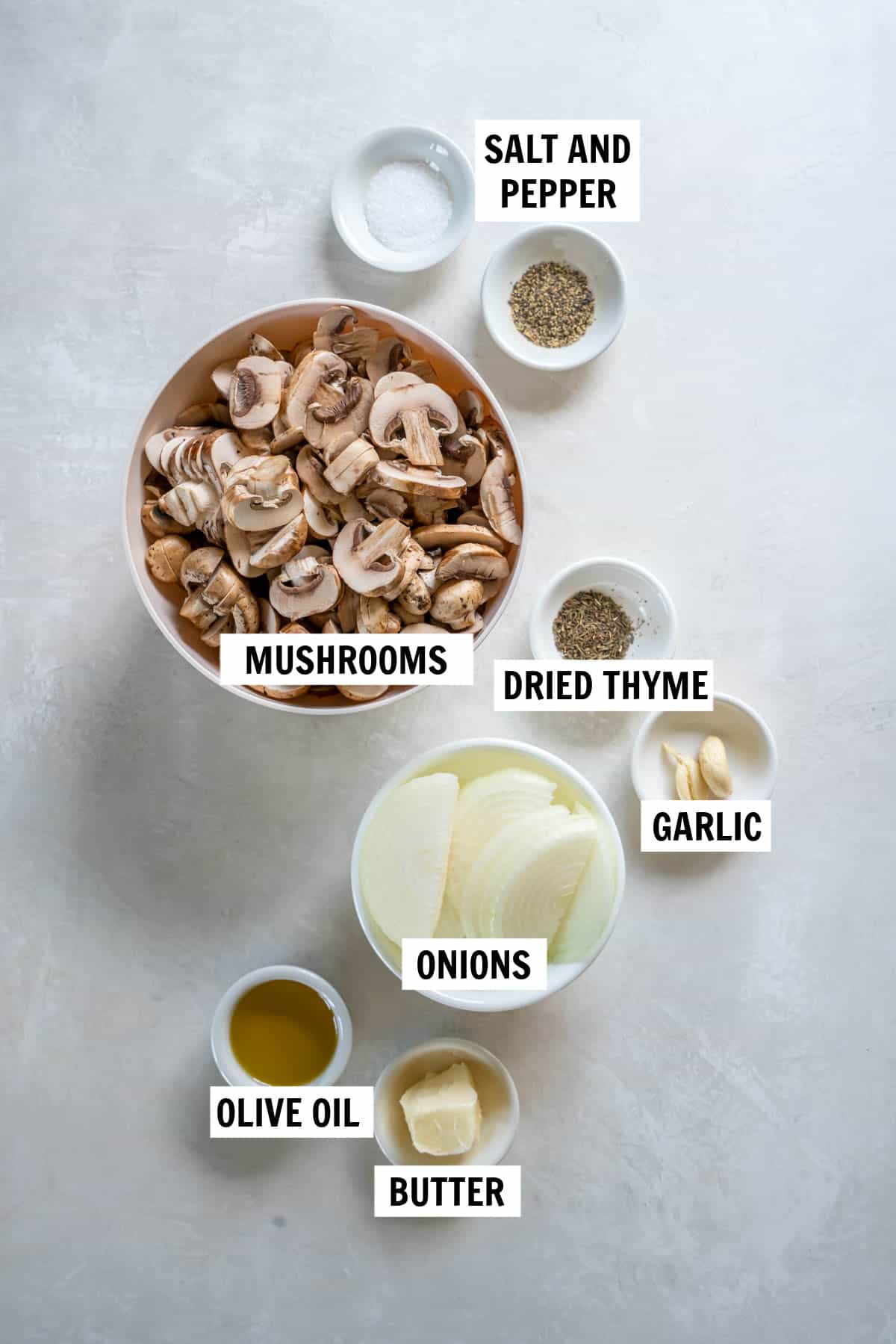 Extra Virgin Olive Oil – Olive oil has a high smoke point and helps create a nice crisp edge. You can substitute with avocado oil, if desired.
Unsalted Butter – The butter enhances the flavor. Unsalted is best, but you can substitute with salted butter and reduce the amount of additional salt, as desired.
Mushrooms – Brown and white mushrooms are preferred. Look for fresh white button mushrooms, cremini mushrooms or portobello mushrooms or use a medley of brown and white mushrooms. You can also use shiitake mushrooms.
Onion – Sweet or yellow onions pair perfectly with burgers and steak.
Garlic – Fresh garlic enhances the flavor.
Thyme – This herb adds flavor. Dried or fresh thyme work. You can also substitute with dried oregano, basil or marjoram for an alternative flavor. Other savory flavors like Italian seasoning, poultry seasoning or herbs de Provence work great too.
OPTIONAL: You can add bell peppers to this dish. Add them with the onions and saute until soft and fragrant.
How to Make Sautéed Mushrooms and Onions
Create crisp flavorful mushrooms and onions with four basic steps.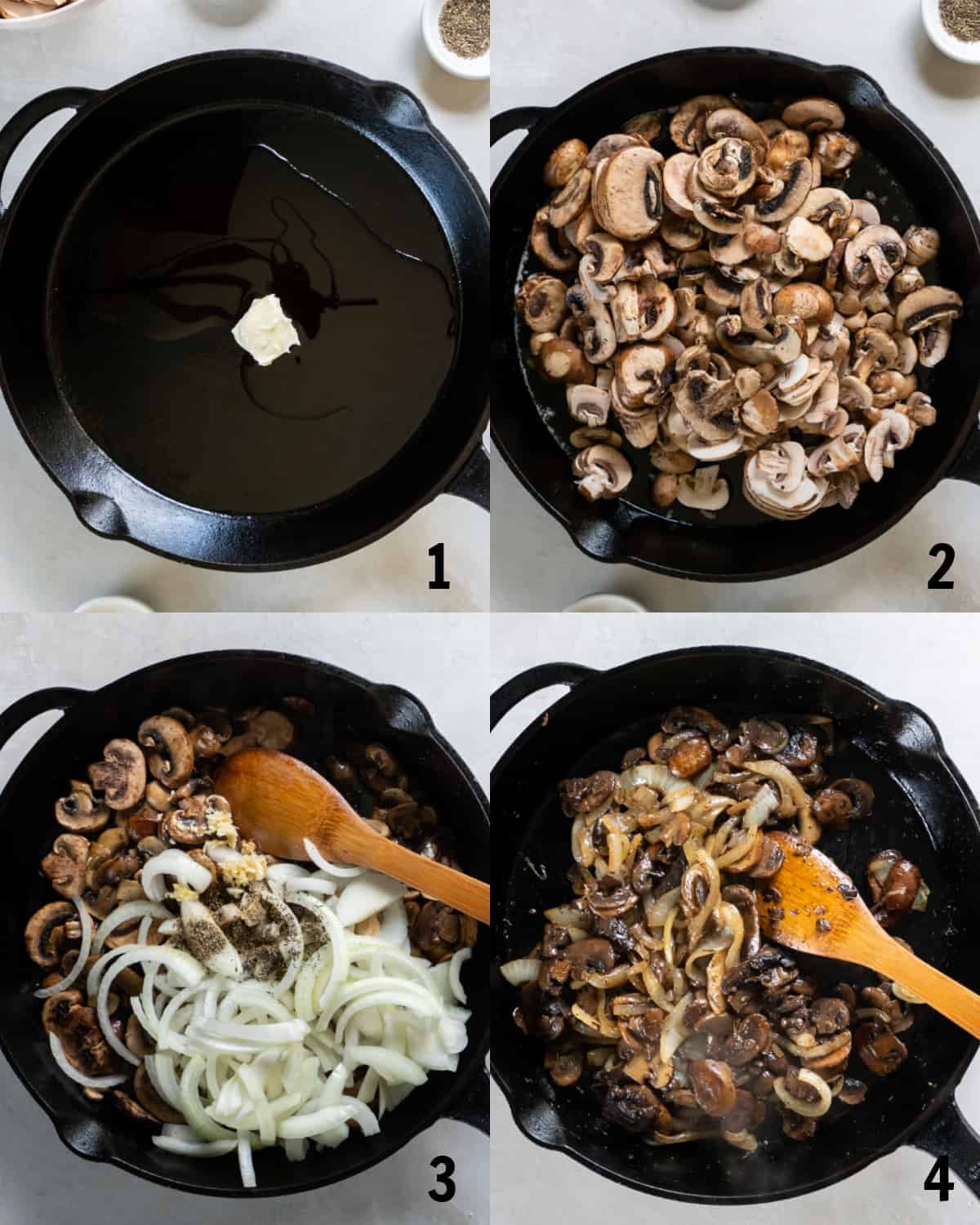 Prepare the skillet to saute: Add the olive oil and butter to a large cast iron or stainless steel pan. Heat over medium-high heat until hot but not smoking.
Saute the mushrooms: Add the mushrooms to the pan, stir them well and then cook undisturbed for 4 to 5 minutes.
Add the onions and saute: Reduce the heat to medium, add the onion, garlic and thyme and cook until the mushrooms and onions are soft, tender and browned with nice caramelized edges.
Season and serve: Season the mushrooms and onions to taste and serve with steaks, burgers and more!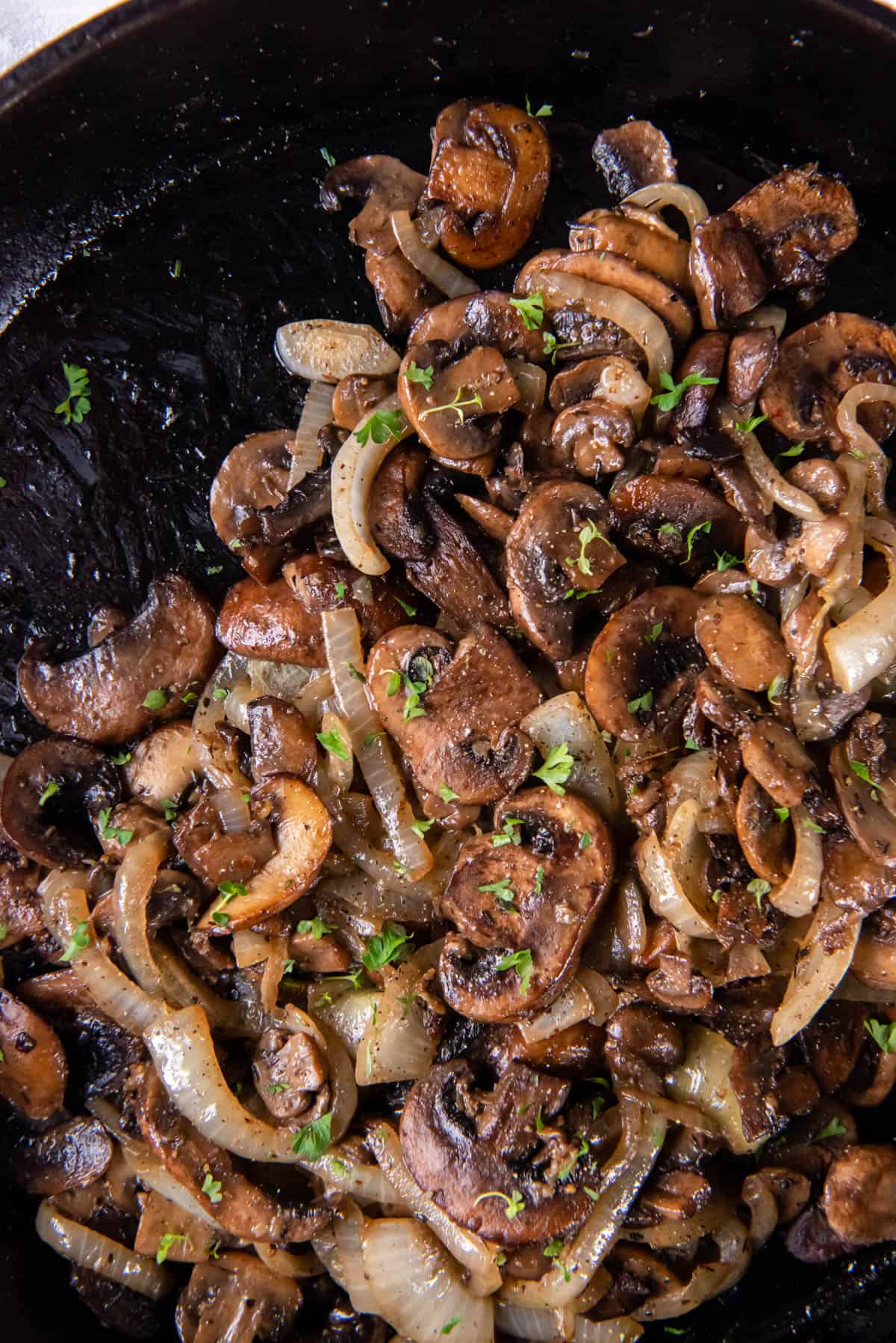 Expert Tips
Dry the mushrooms well: To clean the mushrooms, wipe away any dirt or debris with a clean damp kitchen towel. Then, blot them completely dry.
Make sure your pan is hot: Mushrooms release moisture so if the pan isn't hot enough, the excess water will steam the mushrooms and make them soggy. Cook over medium-high heat, so the extra moisture quickly cooks off.
Deglaze the pan: Add a splash of Worcestershire sauce, soy sauce or white wine to the pan to pick up every flavor and the yummy browned bits.
Finish with lemon and herbs for more flavor: While the pan is still hot, add a splash of freshly squeezed lemon juice and freshly chopped parsley or chivies.
FAQs
What do you cook first, onions or mushrooms?
As a rule of thumb, mushrooms go into the pan first. Then, add the onions once the mushrooms are nicely browned and starting to caramelize.
Should you salt mushrooms while sautéing?
Salt is best added to mushrooms once cooked. Salt added while cooking with draw out moisture and make the mushrooms mushy.
Why are my mushrooms rubbery?
Sautéing damp mushrooms will lead to rubbery mushrooms. The key to good mushrooms is drying them well and eliminating as much moisture as possible by sautéing them over medium-high heat.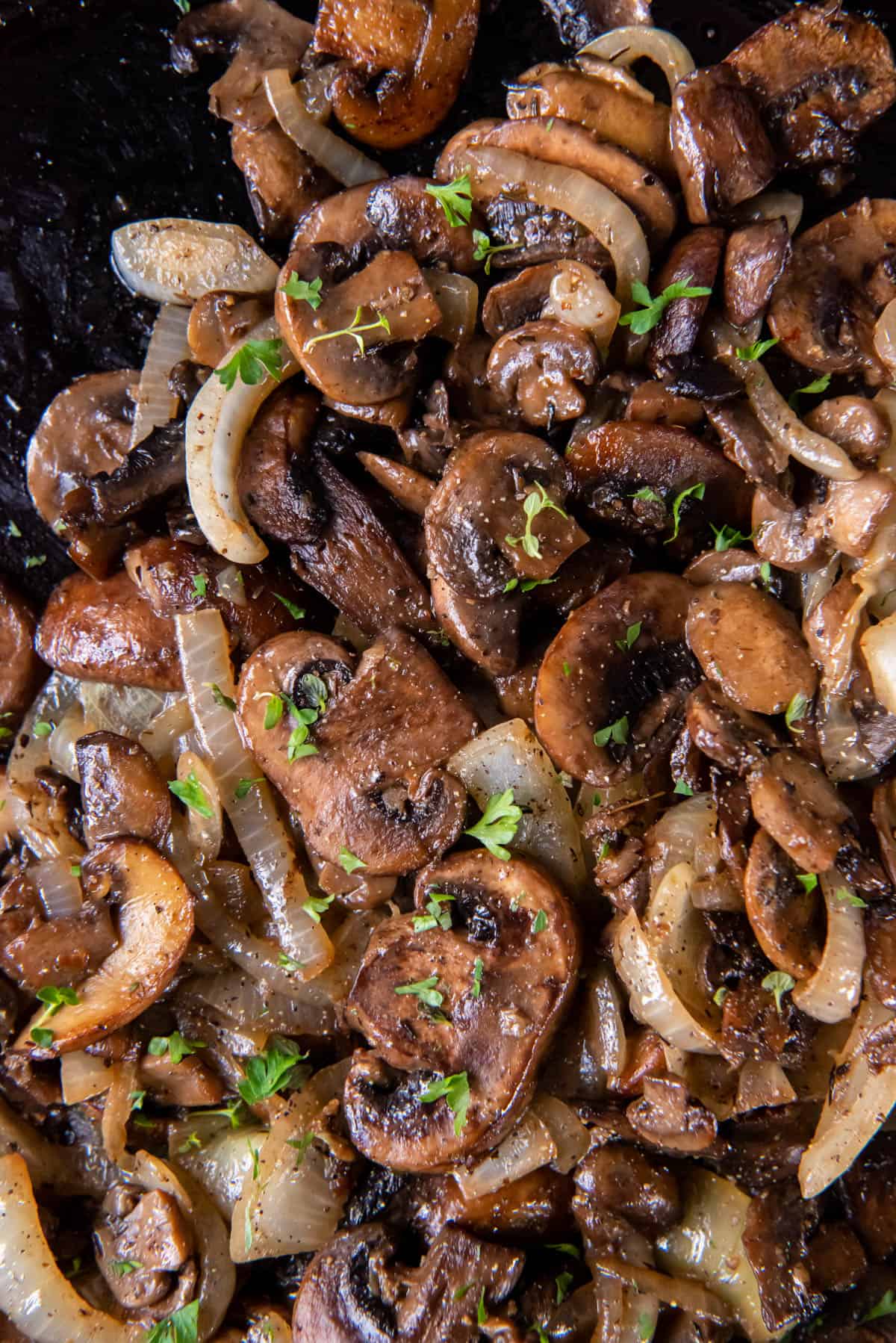 Serving Suggestions
Sauteed mushrooms and onions are a quick and easy way to upgrade just about any meal. They pair perfectly with the following dishes or a simple side of pasta or rice.
Try this recipe and let us know what you think. Leave a recipe rating and review below!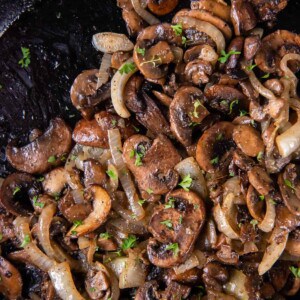 Sautéed Mushrooms and Onions
Yield: 4
A simple side dish to serve with burgers, steaks and more.
Ingredients
2 tablespoons extra virgin olive oil
2 tablespoons unsalted butter
1 pound brown or white mushrooms, sliced
1 large sweet yellow onion, sliced
2 cloves garlic, minced
1/2 teaspoon kosher salt
1/2 teaspoon freshly ground black pepper
1/2 teaspoon dried thyme
Instructions
Ad the olive oil and butter to a large skillet set over medium-high heat.

Add the mushrooms to the pan, stir and saute for 4 to 5 minutes without disturbing.

Reduce the heat to medium and add the onion, garlic, salt, pepper and thyme. Cook for an additional 6 to 7 minutes, or until the mushrooms and onions are soft and nicely browned.

Season with salt and pepper to taste and serve as desired.
Notes
Substitutions: You can substitute the dried thyme with another herb like Italian seasoning, basil or herbs de Provence. You can also add bell peppers and saute until soft and fragrant. Storing: Refrigerate extras in a shallow, airtight container for 3-5 days. Freezing: Let cool, place in a freezer bag with as much air removed as possible, and freeze for up to 3 months. When ready to use your mushrooms and onions, they can be reheated from frozen directly in a pan over medium-high heat.
Nutrition
Calories: 167kcal, Carbohydrates: 11g, Protein: 4g, Fat: 13g, Saturated Fat: 5g, Polyunsaturated Fat: 1g, Monounsaturated Fat: 7g, Trans Fat: 0.2g, Cholesterol: 15mg, Sodium: 304mg, Potassium: 471mg, Fiber: 2g, Sugar: 6g, Vitamin A: 182IU, Vitamin C: 7mg, Calcium: 28mg, Iron: 1mg
If you try this recipe, don't forget to leave a review below or share a photo and tag @spoonfulofflavor on Instagram.