Classic apple crisp is a classic fall dessert. Make this easy recipe and serve it warm with vanilla ice cream and caramel sauce. 
Happy fall, friends! Haley here from If You Give a Blonde a Kitchen. Today I'm sharing my favorite recipe for apple crisp. It's a classic fall dessert and is the perfect use for all the apples in season!
Apple crisp has been a staple in my family for as long as I remember. Growing up my mom would take me and my siblings apple picking. We'd use the apples to make the crisp and serve it with vanilla ice cream!
What I truly love about apple crisp though is that it is very difficult to mess up. Think of the recipe as two parts—the apple filling and the oat crumble topping. All you have to do is make those two parts, put it in a dish and bake!
To make the crumble topping, simply whisk together flour, oats, brown sugar, baking powder, cinnamon and salt. Add in some cold, cubed butter and combine to form a crumble-like texture (I like to use my hands for this part).
As for the apple filling, you get to make a syrupy sauce to pour over the sliced apples. It calls for melted butter, lemon juice, water, brown sugar, flour, vanilla and cinnamon. Toss the apples in the mixture and voila! You have the apple filling.
Layer the crumble on top, pop it in the oven and let the aromas of cinnamon baked apples fill your house. You know the crisp is ready when the juices start bubbling and the crumble is golden brown.
Apple crisp will undoubtedly put you in the mood for fall. It tastes delicious right out of the oven or chilled in the fridge a few days later!
Classic Apple Crisp
Apple crisp is a classic fall dessert. Make this easy recipe and serve it warm with vanilla ice cream and caramel sauce.
Ingredients
For the crisp topping:
1/2  cup plus 2 tablespoons all-purpose flour (78g) 
1/2  cup  40 g old fashioned oats (40g)
1/2  cup 100 g packed light brown sugar (100g)
1/2  teaspoon  baking powder
1/4 teaspoon  ground cinnamon
1/4 teaspoon  salt
1/3  cup unsalted butter, chilled and cut into small cubes (76g) 
For the Apple Filling
2  pounds baking apples, about 6 apples, peeled, cored and sliced thin (about 1/8-inch)
3 tablespoons  unsalted butter, melted (42g)
2 tablespoons  all-purpose flour
1 tablespoon  water
1  tablespoon  lemon juice
1/2 teaspoon  vanilla extract
1/4  cup light brown sugar 50g
1/2 teaspoon  ground cinnamon
Pinch of salt
Instructions
Preheat oven to 375° F. Lightly butter an 8x8-inch glass baking dish and set aside.

Prepare the Topping: In a medium mixing bowl, whisk together flour, oats, light brown sugar, baking powder, cinnamon and salt. Add cubed butter and, using clean hands, combine butter with dry mixture until it comes together into small crumbles. Transfer to refrigerator to chill while preparing filling.

Make the Filling: In a small mixing bowl, whisk together melted butter and flour until slightly thick. Stir in water, lemon juice and vanilla. Add brown sugar, cinnamon, and pinch of salt. Stir until ingredients are well combined.

Place sliced apples in a large bowl and pour butter mixture over the apples. Use a rubber spatula to toss and evenly coat the apples in butter mixture. Transfer apples to prepared baking dish.

Remove topping from the refrigerator (separate into crumbles if necessary) and sprinkle evenly over the top of the apple layer.

Bake at 375° F for 35 minutes, or until top is golden brown and the apples juices are bubbling at the edges of the pan. Remove crisp from the oven and let rest for 10 minutes. Serve warm with vanilla ice cream and caramel sauce if desired.
Notes
I recommend using Gala, Honeycrisp, Braeburn or Golden Delicious for this crisp to get the best flavor and texture. 
Nutrition Information
Calories:
370
, Fat:
16.6g
, Saturated Fat:
9.9g
, Polyunsaturated Fat:
0.8g
, Monounsaturated Fat:
4.8g
, Cholesterol:
42.9mg
, Sodium:
122.9mg
, Potassium:
184.5mg
, Carbohydrates:
57.3g
, Fiber:
4.8g
, Sugar:
39.9g
, Protein:
2.4g
, Vitamin A:
13.6%
, Vitamin C:
16.4%
, Calcium:
4.2%
, Iron:
6.3%
*Nutritional information is an estimate. Please consult a doctor or nutritionist for the most accurate nutritional info.
Course: Dessert
Cuisine: American
Keyword: apple crisp, classic apple crisp
Try more recipes from If You Give a Blonde a Kitchen…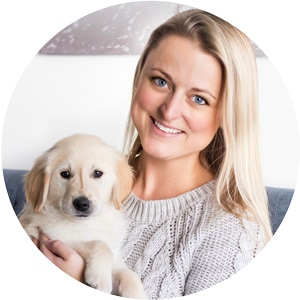 Connect with Haley:
Blog | Facebook | Pinterest | Instagram | Twitter | YouTube