This easy recipe for Instant Pot Apple Butter shows you how to make this thick and flavorful spread using your pressure cooker. Combine your favorite apples along with seasonings and lemon juice then cook down and spread it on bread, biscuits, or as a topping on your favorite baked goods.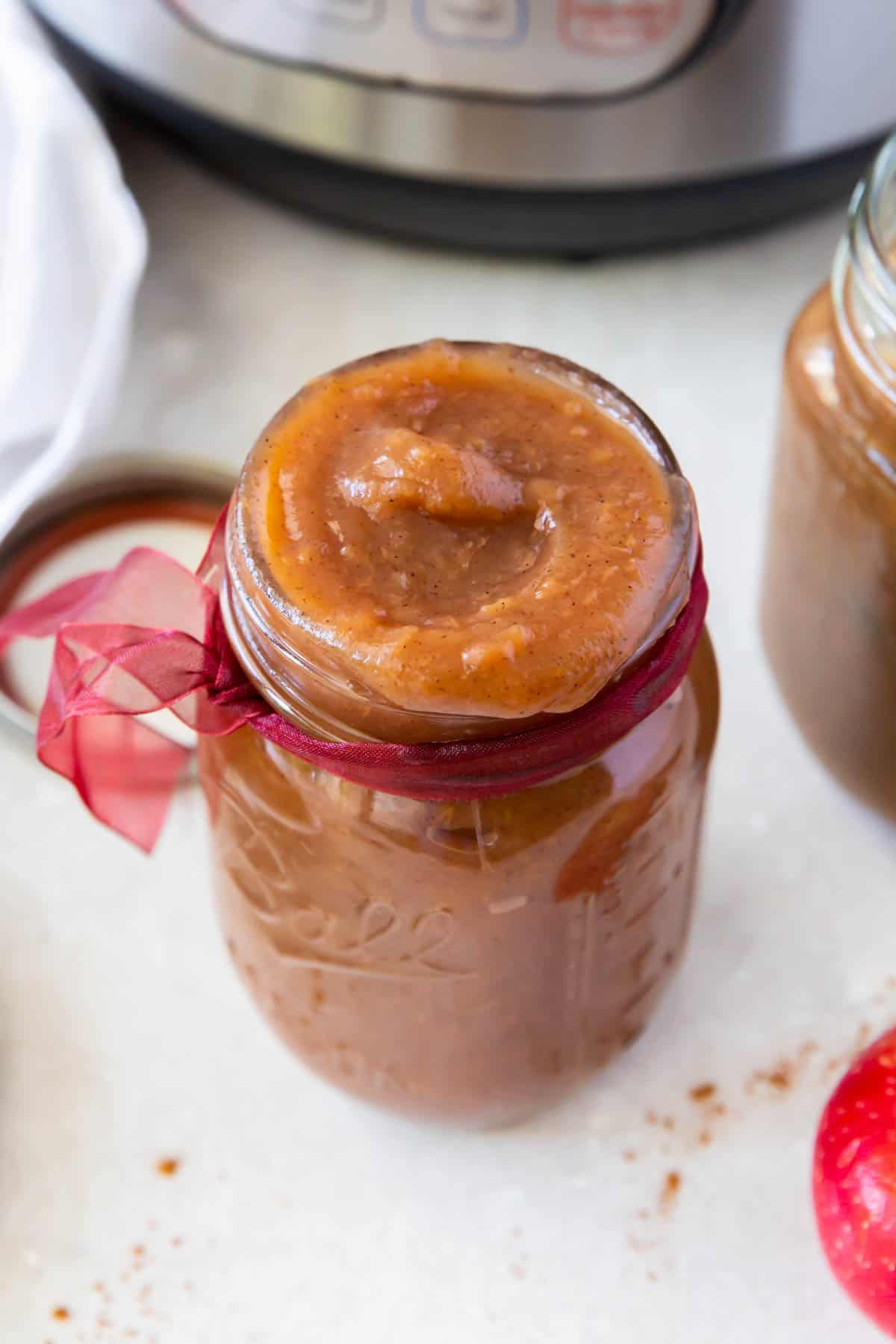 Nothing says fall is ahead like an abundance of fresh apples. While I love using apples in so many different recipes, this homemade apple butter recipe has to be one of my favorites. No water bath or fancy prep needed. It's an easy, versatile and delicious recipe to make during September, October or any time of the year.
This pressure cooker apple butter can be made with or without sugar. You can also substitution the sugar with maple syrup, if desired. Everything cooks in the Instant Pot or pressure cooker to make clean up easy.

What is apple butter?
Apple butter is simply a more cooked-down version of applesauce. In applesauce, the apples are broken down and cooked, and left in their natural juices. It is similar but takes it a step further and simmers out nearly all of the moisture until a thick butter consistency is formed.
It is also made using some warming spices such as cinnamon and nutmeg to enhance the flavors. You can use apple butter the same way you'd use jellies or jams making it a super versatile sweet condiment. It also makes a wonderful gift for the holiday season!
Why You'll Love This Recipe
A great way to use your favorite apple to make a sweet treat.
You can use it as a topping, spread, or even mix it into your favorite baked goods.
Makes a great gift for teachers, neighbors, or friends.
You can easily adjust the seasonings and sugar to customize it to your tastes.
It's one of the best fun and easy instant pot recipes.
Ingredients You'll Need
Fresh Apples – Use your favorite apple in this recipe. The apples are prepared by cutting them into wedges.
Water – Helps thin out the mixture and allows the instant pot to pressure cook them.
Fresh Lemon Juice – Gives the recipe a hint of natural acidity and helps preserve the apples.
Brown Sugar – Adds a hint of caramel-like sweetness to the apples. You can reduce the amount of brown sugar or omit it completely.
Vanilla Extract – Infuses with a light vanilla flavor
Seasonings – Ground cinnamon and nutmeg give this recipe a warming layer of flavor.
You will need an electric pressure cooker to make this recipe. Instant Pot is a great brand of pressure cooker, but any will work.
How To Make Instant Pot Apple Butter
Combine ingredients in the instant pot: In the inner pot of your pressure cooker, add all of your ingredients. Give them a good stir with a spoon to fully combined.
Pressure cook the ingredients: Once the lid is on and in the sealed position. Set the manual pressure to cook for 6 minutes on HIGH. Allow the pressure to release naturally before removing the lid.
Blend: Using an immersion blender, blend the ingredients until smooth right in the inner pot of your pressure cooker. Taste the puree and add more sugar if desired.
Simmer the mixture: Press the SAUTE, then LESS button on your instant pot and bring the mixture to a simmer. It will cook here for 30-60 minutes as you occasionally stir until a thick butter is formed that is dark in color.
Cool and store: Once it reaches your desired thickness, press cancel on the instant pot to stop the cooking. Let it cool completely before storing in large sanitized mason jars. Store in the fridge or freezer.
Allow the apple butter to simmer until it reaches your desired thickness. If you prefer thick butter, then allow it to simmer longer. The longer it simmers, the more it will thicken as the moisture evaporates.
Expert Tips for Making Apple Butter
If you don't have an immersion blender, you can remove the apple mixture in batches and blend using your blender. Make sure it is cool enough to work with as it is very hot right out of the instant pot.
You can decide if you would like to use the peel or not depending on your personal preference. The peel does break down in cooking and blending, so you will not see it or taste it.
It takes about 30-60 minutes of simmering to come together in the second cooking step. The amount of time it takes depends on how sweet your apples are and how high the natural water content is.
Make sure any jars you use for storing are fully sanitized before storing to prevent any bacteria growth.
Store it in the fridge after it's cooled unless it's properly canned.
Adjust the sugar as necessary. The natural sweetness in apples varies greatly, so make sure you always test the apple butter to make it your desired level of sweetness.
Variations
Add some extra fall flavor by using pumpkin pie spice as the seasoning in this pumpkin butter.
You can make it refined sugar free by omitting the brown sugar in this recipe. You can also use green granny smith apples to keep the sugar down.
Mix the apples with fresh pears for apple-pear butter for an added fruity twist.
It it chunky by pulsing the mixture until it's a chunky texture like salsa to give it a thick apple texture.
Add in pureed pumpkin or butternut squash with the apples for fall instant pot apple butter.
Making Slow Cooker Apple Butter: You can make this recipe in a slow cooker, if desired. Place the cut apples with the remaining ingredients in a slow cooker. Stir to combine. Heat on HIGH for 3 to 4 hours or on LOW for 8 to 10 hours. Puree the apples with an immersion blender and then continue cooking uncovered in the slow cooker on HIGH for 2 hours until thickened.
FAQs
Will apple butter thicken as it cools? 
It thicken as it cools. When it is hot, the cells of the apple expand and they contract as it cools making it thicker in the final product. 
What is the best apple to use for apple butter? 
You can use any apples you enjoy, but softer apples are best such as Macintosh or Fuji apples. A mix of any type of apples works too. 
What is the difference between apple sauce and apple butter?
Like apple butter, applesauce is made by breaking down and cooking apples. However, in applesauce, the excess moisture is kept in making it a sauce texture. It has most of the moisture removed turning it into a thick buttery consistency. 
What is apple butter used for?
It is used in the same way that any jams or jellies are used. You can spread it on bread or biscuits. Or you can use it as a topping for ice cream, cakes, or even in your morning oatmeal. 
Enjoy this classic fall recipe all season long. It comes together easily and is too good to resist!
Other Apple Recipes
Did you make this recipe? Leave a recipe rating and review below!
Instant Pot Apple Butter
Yield: 48 servings
Easy apple butter cooked in the instant pot with a few basic ingredients!
Ingredients
4 pounds apples, cored and cut into wedges (peeled or unpeeled)
2 tablespoons water
1 tablespoon fresh lemon juice
3 tablespoons brown sugar
1/2 tablespoon pure vanilla extract
1 1/2 teaspoons ground cinnamon
1/2 teaspoons ground nutmeg
Instructions
Place the apples, water, lemon juice, brown sugar, vanilla, cinnamon, and nutmeg to the inner pot of your Instant Pot. Stir well to combine.

Secure the lid and seal the valve. Cook on Manual High for 6 minutes, then allow a full natural release. Carefully remove the lid.

Using an immersion blender (or pulse batches in a regular blender), blend the contents until smooth. Taste and add more sweetener if desired.

Press SAUTE LESS on the InstantPot. Bring the mixture to a simmer, and allow it to cook for 30-60 minutes, stirring occasionally, until the apple butter has thickened and darkened to your desired consistency.

Press CANCEL on the Instant Pot, then allow the apple butter to cool completely.

Transfer the apple butter to a large mason jar and store it in the refrigerator for up to 3 weeks. You can also freeze it for up to 6 months.
Notes
This recipe makes about 3 pints of apple butter or 96 tablespoons. Each serving is about 2 tablespoons. Storing: Leftovers can be stored in the fridge for up to 3 weeks.  Freezing: Freeze any leftovers in an airtight container or in an ice cube tray for up to 6 months. Thaw in the fridge overnight before stirring and serving. 
Nutrition
Calories: 23kcal, Carbohydrates: 6g, Protein: 1g, Fat: 1g, Saturated Fat: 1g, Polyunsaturated Fat: 1g, Monounsaturated Fat: 1g, Sodium: 1mg, Potassium: 42mg, Fiber: 1g, Sugar: 5g, Vitamin A: 21IU, Vitamin C: 2mg, Calcium: 4mg, Iron: 1mg
If you try this recipe, don't forget to leave a review below or share a photo and tag @spoonfulofflavor on Instagram.