Glazed lemon pound cake is tender, sweet and full of lemon flavor. It's a delicious dessert to try for spring!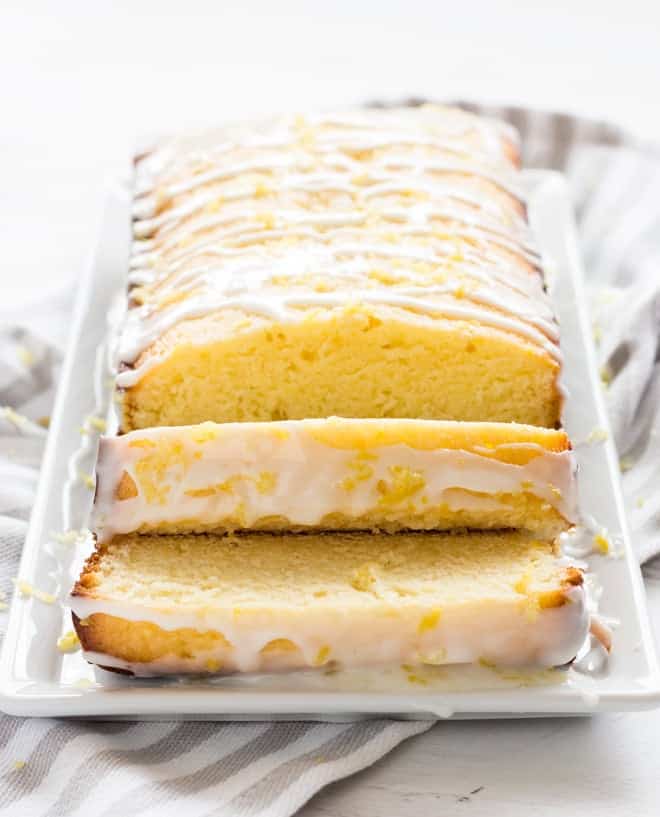 Spring is in the air! Haley here from If You Give a Blonde a Kitchen, and something about spring makes me want to bake lemony desserts. They're fresh, sweet and simply make me happy! Today I'm sharing my recipe for lemon pound cake.
Why is pound cake so freakin' good? Obviously the answer is butter, sugar and flour, but I'm still surprised each time I make it. The most basic ingredients make the most delicious dessert!

This time around I wanted to add a fresh twist on the run-of-the-mill pound cake. Lemon easily does the trick. A couple teaspoons of lemon zest, a few tablespoons of lemon juice and this pound cake is ready for spring.
Oh, and don't forget about that bright yellow color! How can that not put a smile on your face? It's amazing what a little lemon does to a dessert.
But the real kicker for the lemon pound cake is the glaze. It simply tops it all off. The sweet and tart lemon glaze adds an extra dose of lemon flavor without over doing it.
It acts as an icing that complements the tender pound cake. The glaze pushes it past a good lemon pound cake and makes it great.

Aside from having amazing lemon flavor, the texture of this cake is on point. It's tender and dense (as a pound cake should be) while delivering a sweet, buttery taste in every bite.
To put it simply, this lemon pound cake is so good, you must add it to your list of desserts to try this spring!
Lemon Pound Cake
Glazed lemon pound cake is tender, sweet and full of lemon flavor. It's a delicious dessert to try for spring!
Ingredients
Lemon Pound Cake
1 1/2 cups all purpose flour (185 g)
1/2 teaspoon salt
1/4 teaspoon baking powder
1/2 cup unsalted butter room temperature (113 g)
1/4 cup butter or shortening room temperature (50 g)
1 1/2 cups granulated sugar (300 g)
3 large eggs
3 tablespoons fresh lemon juice strained
1 tablespoon lemon zest
1/2 cup milk (120 ml)
Lemon Glaze
1 cup confectioners' sugar sifted (110 g)
2 tablespoons fresh lemon juice strained
Lemon zest for garnish optional
Instructions
Preheat oven to 350° F. Line a 5-inch by 9-inch loaf pan with parchment paper and spray with nonstick cooking spray. Set aside.

In a medium bowl, whisk together flour, salt and baking powder. Set aside.

In the bowl of a stand mixer (or in a large bowl using a hand mixer), cream together butter, shortening and sugar until light and fluffy, about 3 minutes. Add eggs one at a time, mixing well after each addition. Add lemon zest and lemon juice, and mix until combined, about 30 seconds.*

With the mixer on low, add one third of the flour mixture followed by half of the milk. Repeat letting each ingredient mix until mostly combined. Finish by adding the last third of flour mixture and mix just until incorporated. Avoid over mixing.

Pour cake batter into prepared loaf pan and bake for 55 to 60 minutes or until a toothpick inserted in the center of the pound cake comes out with little to no crumbs on it. Let cake cool for 10 minutes in the pan, then use the parchment paper to lift the pound cake out of the pan and cool completely on a wire rack.

To make the glaze, whisk together confectioners' sugar and fresh lemon juice until no lumps remain and a drizzle consistency is reached. If necessary, add another teaspoon of lemon juice. Spoon glaze over the cooled pound cake and serve. Store covered at room temperature for  3 to 4 days.
Notes
The batter may look slightly curdled after adding the lemon juice. That is okay! Quickly move on to the next step and the cake will turn out beautifully.
Source: If You Give a Blonde a Kitchen
Nutrition Information
Calories:
386
, Fat:
16g
, Saturated Fat:
7g
, Cholesterol:
74mg
, Sodium:
142mg
, Potassium:
69mg
, Carbohydrates:
57g
, Sugar:
42g
, Protein:
4g
, Vitamin A:
375%
, Vitamin C:
3.7%
, Calcium:
31%
, Iron:
1.1%
*Nutritional information is an estimate. Please consult a doctor or nutritionist for the most accurate nutritional info.
Course: Dessert
Cuisine: American
Keyword: lemon cake, lemon pound cake
Connect with Haley:
Blog | Facebook | Pinterest | Instagram | Twitter | YouTube