This recipe for the best Zucchini Lasagna uses thinly sliced zucchini as noodles for a lighter twist on this Italian classic. Layer zucchini with a turkey meat sauce and creamy ricotta for a hearty meal that's perfect for the summer or anytime!
Zucchini is a versatile vegetable but sometimes it's difficult finding new ways to use fresh seasonal zucchini. Substituting zucchini for long lasagna pasta noodles is one of my favorite ways to enjoy classic comfort food in a new way. Zucchini noodles are a great contrast in flavor and texture to wheat noodles and are perfect for anyone looking to watch their carb intake.
After slicing the zucchini into thin noodles, make a simple meat sauce with ground turkey, Italian seasonings and red pasta sauce. Layer the thinly sliced zucchini and sauce with a creamy cheese filling made from ricotta and bake with layers of cheese until fully cooked.
This turkey zucchini lasagna is great during the summer months because it has a classic Italian lasagna flavor but won't weigh you down!
Why You'll Love This Recipe
It's a great low-carb alternative to this hearty Italian classic dish.
You can change up the ground meat that you use and can even turn it into a vegetarian lasagna using a plant-based meat substitute.
It's the perfect way to use up an abundance of fresh summer zucchini.
Serve it up during the summer months to enjoy a lighter dish of lasagna.
Ingredients You Need
Fresh Zucchini – You'll need 3-4 medium-sized zucchini to make this recipe which is then sliced into thin lasagna noodles.
Kosher Salt – Helps remove some of the excess moisture in the zucchini and flavors it properly.
Ground Turkey – This high protein meat is a great addition to this dish making it hearty and meaty. You can substitute with a plant-based meat alternative, if desired.
Cremini Mushrooms – Add a deep umami flavor and lots of nutrition to the lasagna.
Chopped Onion – Infuses the sauce with onion flavor.
Italian Seasoning – Gives this lasagna an Italian herb flavor throughout.
Black Pepper – Seasons the sauce, zucchini, and cheese mixture.
Red Pasta Sauce – Layers the dish with fresh tomato flavor and mixes well with the ground turkey.
Ricotta Cheese – Adds a creamy and slightly sweet layer of flavor.
Egg – Helps bind the ricotta cheese together so it sets properly when baked.
Shredded Cheese – You'll need shredded mozzarella and parmesan cheese to layer into and on top of the lasagna.
How To Make Zucchini Lasagna
Prepare for baking: Preheat your oven to 450F. While the oven is preheating, line at least 2 baking sheets with parchment paper, and set aside for prepared zucchini slices.
Prepare the zucchini: After washing and trimming the ends off of the zucchini, you'll want to use a mandolin to carefully slice them into ¼ inch thick lasagna noodles. If you don't have a mandolin, you can use a knife to thinly slice the noodles. Place the zucchini strips in a single layer divided between baking sheets. Season them with olive oil and salt, then bake the zucchini for 10 minutes. Remove from oven and set aside to cool for assembly. Reduce the oven temperature to 375 degrees F after baking zucchini.
Make the turkey red sauce: Heat a skillet over medium-high heat, and add your ground turkey and saute until it begins to brown. Then, add chopped onions and mushrooms and saute until everything is cooked through. This should take about 6-8 minutes. Season the mixture with Italian seasoning, salt, and pepper. Pour in the jar of sauce and bring it to a boil. Once it comes to a boil, turn the heat down to simmer uncovered for about 5 minutes.
Make the ricotta cheese mixture: In a mixing bowl, add the ricotta cheese along with egg, salt, pepper, and some of the mozzarella and parmesan cheese. Mix until all ingredients are well combined and the egg is distributed evenly.
Assemble the turkey zucchini lasagna: Spread a thin layer of meat sauce on the bottom of a 13×9 baking dish that has been coated with cooking spray. Place a layer of cooked zucchini noodles on top in a single layer. Then spread half of the ricotta cheese mixture on top of the zucchini layer very carefully followed by a layer of sauce. After this initial layer, repeat with the remaining noodles, cheese, then sauce. After the final layer of noodles are on top, sprinkle with mozzarella and parmesan. 
Bake and cool: Bake the layered lasagna in the oven for 40 minutes uncovered. Once removed, allow it to sit for 10-15 minutes so all of the moisture distributes properly. Cut and serve hot.
Expert Tips
When choosing zucchini for this recipe, it's best to make sure they are all roughly the same size. This will help you make noodles that are the same size.
It's also important to choose zucchini that is not too big. While oversized zucchini looks like a good deal, it's actually filled with more water than normal-sized zucchini which could make this recipe be too watery.
A mandolin works best when slicing the zucchini. If you do not have one, you can accomplish this type of cut very carefully with a sharp knife.
Since the zucchini noodles are delicate, be sure to take extra care when layering the sauce and cheese mixture as they can move around. To make the cheese mixture easier to spread, make sure it is at room temperature so it spreads easier.
Variations & Substitutes
If you don't enjoy ground turkey, you can swap it out for any ground meat you enjoy including ground beef, bison, chicken, or even ground lamb.
To make a vegetarian zucchini lasagna, use your favorite plant-based meat crumble substitute in place of the ground beef. The Impossible brand makes a great ground beef substitute available in most grocery stores.
I used cremini mushrooms in this recipe, but you can easily use your favorites such as button mushrooms, shiitake, or portobello variety.
Yellow squash makes a great zucchini substitute in this recipe and can be sliced and cooked the exact same way.
If you're not a fan of zucchini or yellow squash, try making this recipe with thinly sliced eggplant instead!
Give this Italian classic a green flavorful twist by using pesto sauce instead of red sauce.
How do you keep lasagna from being watery?
To make sure your zucchini lasagna isn't watery after baking you'll want to make sure that your zucchini noodles are baked before layering them into the dish. Since zucchini is naturally full of water, it releases it when baked. Salting and baking the zucchini beforehand will help draw out as much moisture as possible.
You can also use slightly less tomato sauce as that also can release excess moisture. For best results, always let it sit in the pan after baking to help redistribute any excess moisture.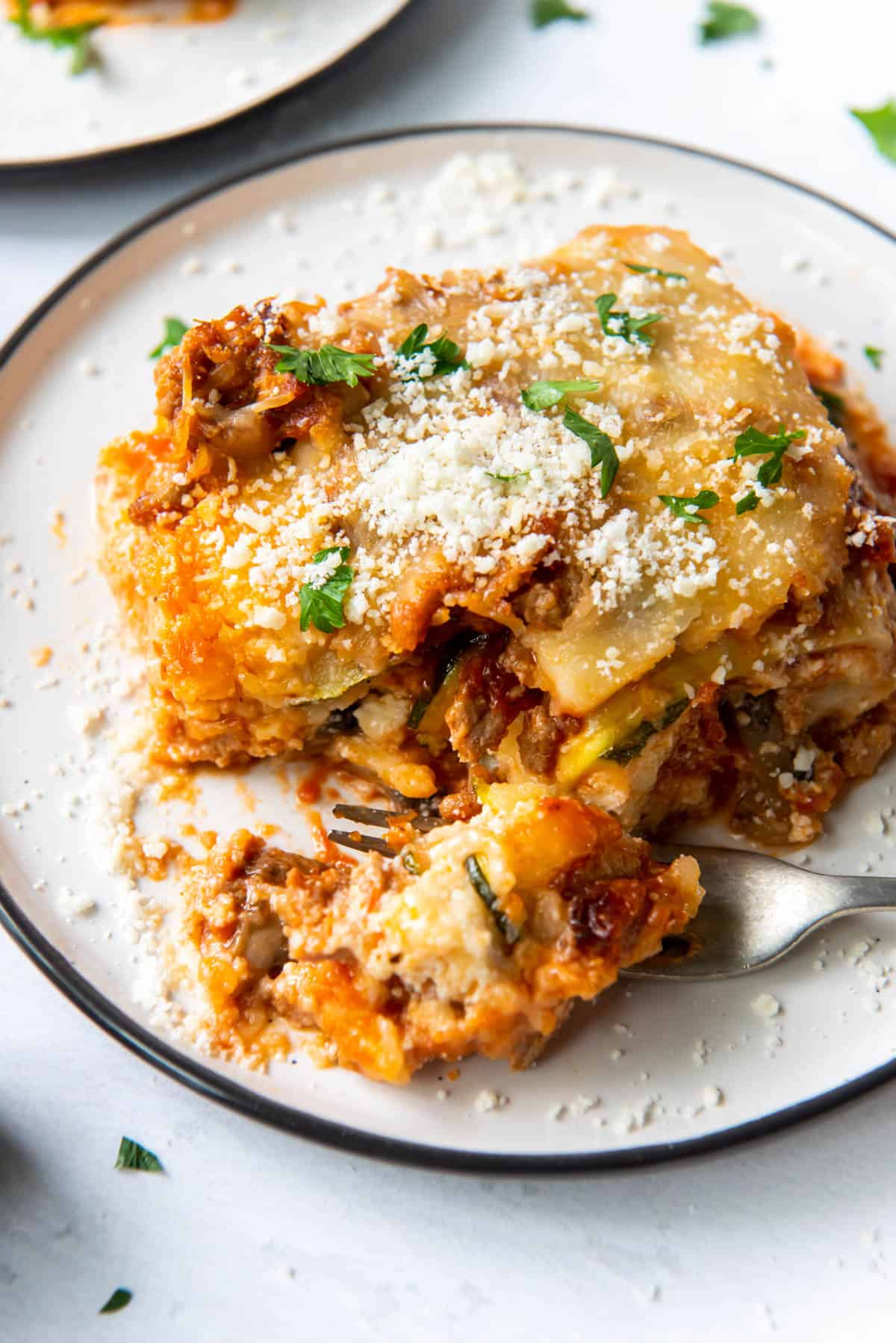 Other Zucchini Recipes
Zucchini Lasagna
Yield: 6 servings
A low carb lasagna made with zucchini noodles, ground turkey, cheese and more!
Ingredients
1 1/2 pounds zucchini squash, (3-4 small to medium-sized)
2 teaspoons kosher salt, divided
1 pound ground turkey
4 ounces cremini mushrooms, chopped
1/4 cup chopped onion
1 teaspoon Italian seasoning
1/2 teaspoon black pepper, divided
24 ounces pasta sauce
1 cup ricotta cheese
1 large egg, lightly beaten
2 cups shredded mozzarella cheese, divided
1/2 cup shredded Parmesan cheese, divided
Instructions
Preheat the oven to 450 degrees F. Line 2 baking sheets with parchment paper and set aside.

Trim the ends of the zucchini then, using a mandoline, slice into ¼ inch thick "lasagna noodles". Divide the strips between the prepared baking sheets, drizzle them with olive oil, sprinkle with 1 teaspoon salt, and roast for 10 minutes. Remove the pans from the oven and set aside to cool. Reduce oven temperature to 375 degrees F after baking zucchini.

Meanwhile, in a large skillet, cook the ground turkey with the mushrooms and onion over medium-high heat for 6-8 minutes until fully cooked. Stir in Italian seasoning, ½ teaspoon salt, ¼ teaspoon black pepper, and pasta sauce, then bring it to a boil. Reduce heat to low and simmer, uncovered, for 5 minutes.

In a medium mixing bowl, combine ricotta cheese, egg, remaining salt and pepper, 1 cup of mozzarella, and ¼ cup Parmesan; mix well.

Spread ½ cup of meat sauce on the bottom of a 13×9-inch baking dish coated with cooking spray. Place a single layer of zucchini noodles on top, then carefully spread on half of the cheese mixture, followed by ⅓ of the meat sauce. Repeat the layers – noodles, remaining cheese, ⅓ of the sauce. Place a final layer of noodles on top, the remaining sauce, then sprinkle with the mozzarella and Parmesan.

Bake, uncovered, for 40 minutes. Allow the lasagna to sit for 10-15 minutes before serving.
Notes
Storing: Any leftover zucchini lasagna can be stored in the fridge for 3-4 days. Reheat it by adding it to a 325F preheated oven and cooking it uncovered for 15-20 minutes or until completely warmed through.  Freezing: Because zucchini is a high water vegetable, it does not hold up well when freezing. Therefore, freezing is not recommended.
Nutrition
Calories: 367kcal, Carbohydrates: 14g, Protein: 38g, Fat: 19g, Saturated Fat: 10g, Polyunsaturated Fat: 1g, Monounsaturated Fat: 5g, Trans Fat: 1g, Cholesterol: 129mg, Sodium: 1832mg, Potassium: 1086mg, Fiber: 3g, Sugar: 9g, Vitamin A: 1288IU, Vitamin C: 29mg, Calcium: 423mg, Iron: 3mg
If you try this recipe, don't forget to leave a review below or share a photo and tag @spoonfulofflavor on Instagram.