This recipe for Mini Corn Dogs is my delicious take on the famous Disney Parks snack. Hot dogs are tossed in a homemade corn dog batter and are fried until golden brown for a slightly sweet and satisfying snack that will bring you right back to the parks!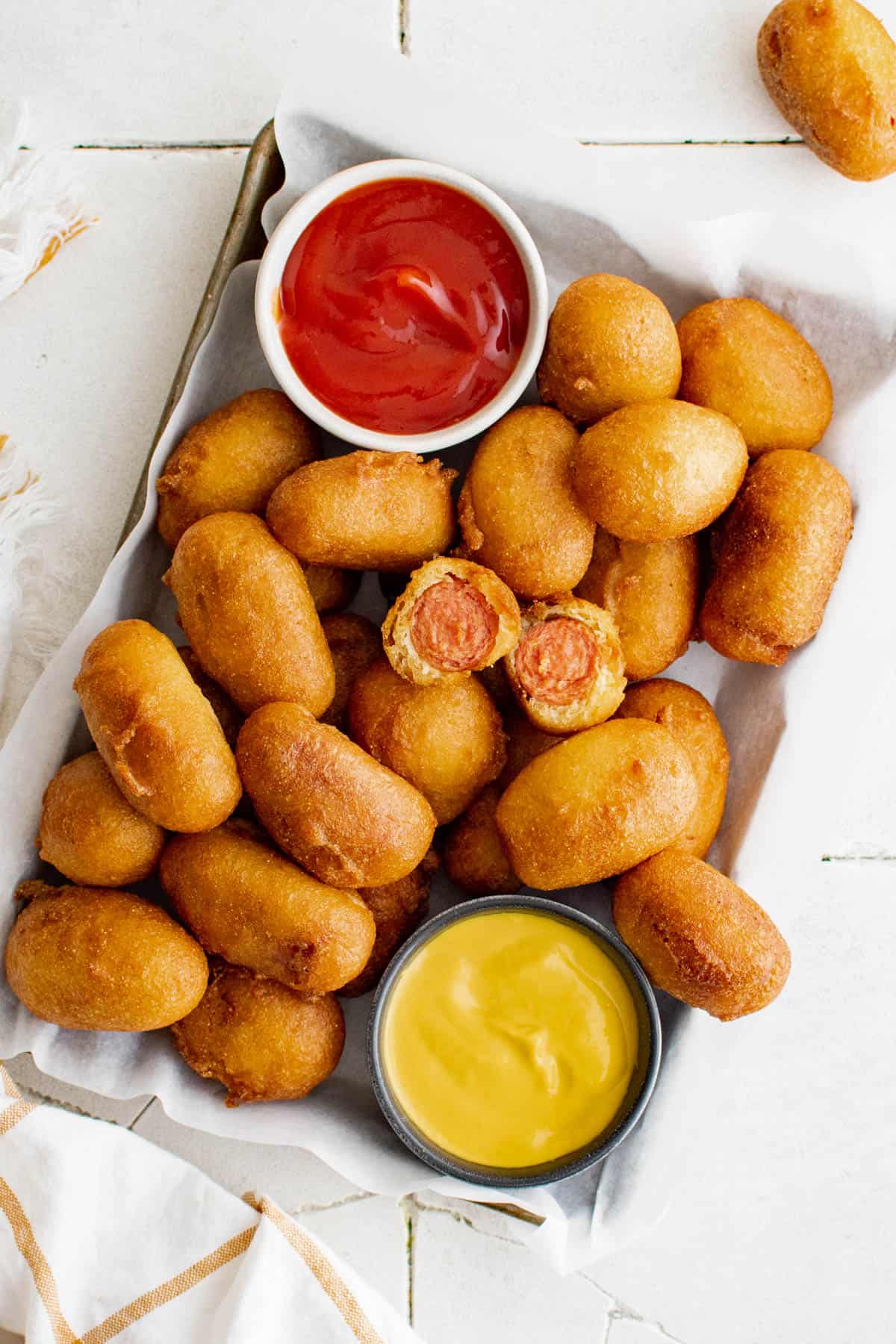 I'm back with another fun recipe in my Disney food series. Mini corn dog nuggets are a staple snack when I head to the parks, and I wanted to make sure everyone can enjoy this treat right at home. You can find this fun treat at Casey's Corner in Disney's Magic Kingdom. If Casey's Corner is closed, you can frequently find them at Peco Bill Tall Tale Inn.
Or if you're missing a bit of the Disney magic, make them from scratch by using simple ingredients to make a fluffy and slightly sweet batter along with your favorite hot dogs. All you'll need to do is cut them up, dip them in the batter, then lightly fry until golden brown.
Why You'll Love This Recipe
You don't have to go to Disney to enjoy this fun snack.
Kids and adults love corn dogs.
This mini version makes a great appetizer for a party.
The ingredients are simple and can be found in all grocery stores.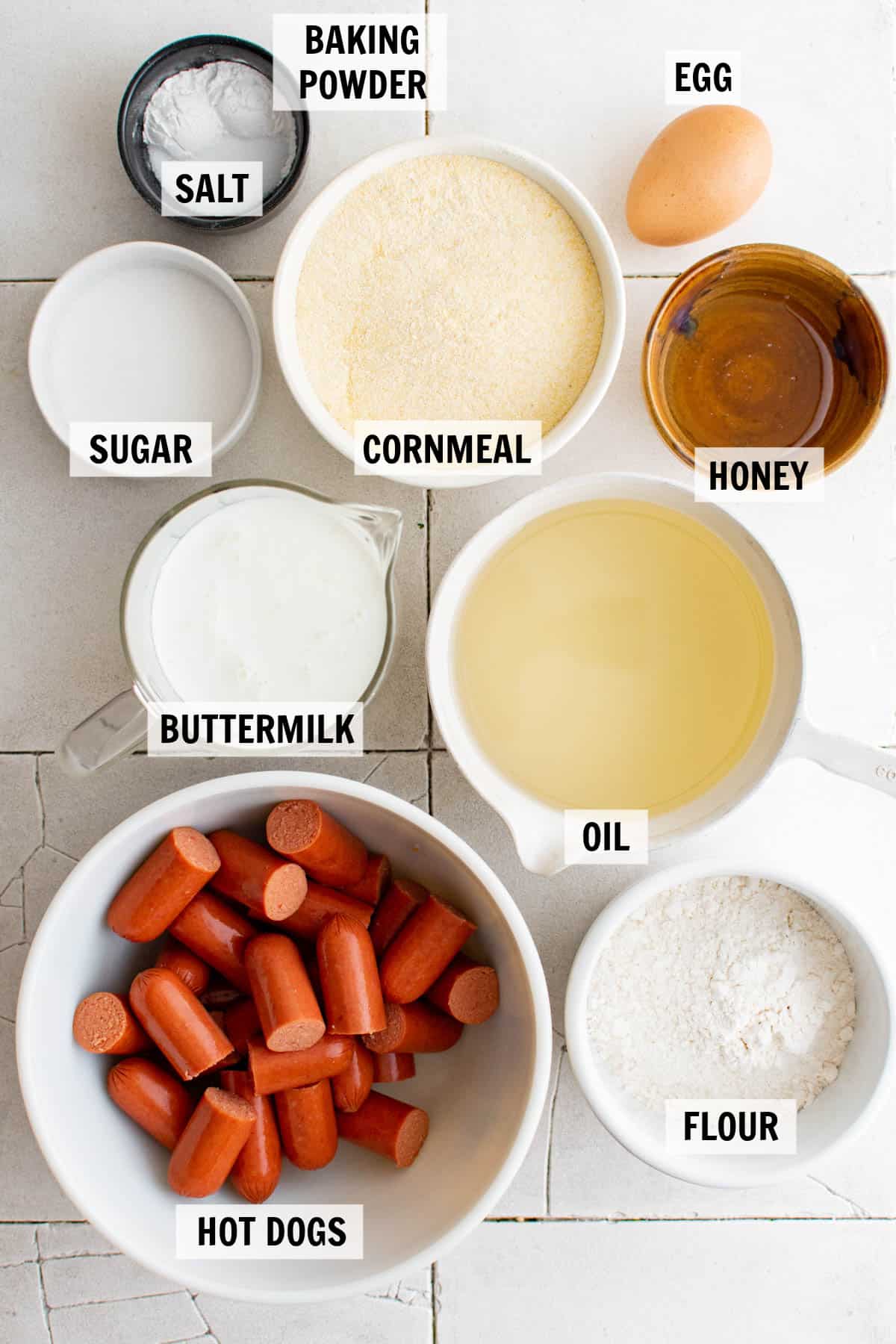 Ingredients You'll Need
Vegetable Oil – This is for frying the corn dogs. You can use whatever frying oil you prefer.
Buttermilk – Gives the batter a tangy and fluffy texture.
Egg – Helps bind all the ingredients together and creates a nice crust on the outside.
Honey & Sugar – Adds a bit of sweet flavor to the batter that pairs well with the flavor of hot dogs.
Yellow Cornmeal – Gives these corn dogs their signature corn flavor and helps with crunch.
All-Purpose Flour – Binds all the ingredients together and makes the outside nice and fluffy.
Baking Powder – Helps the batter get a slight rise while frying.
Salt – Brings together all the flavors in the dish.
Hot Dogs – Use your favorite hot dogs and cut in thirds for the inside.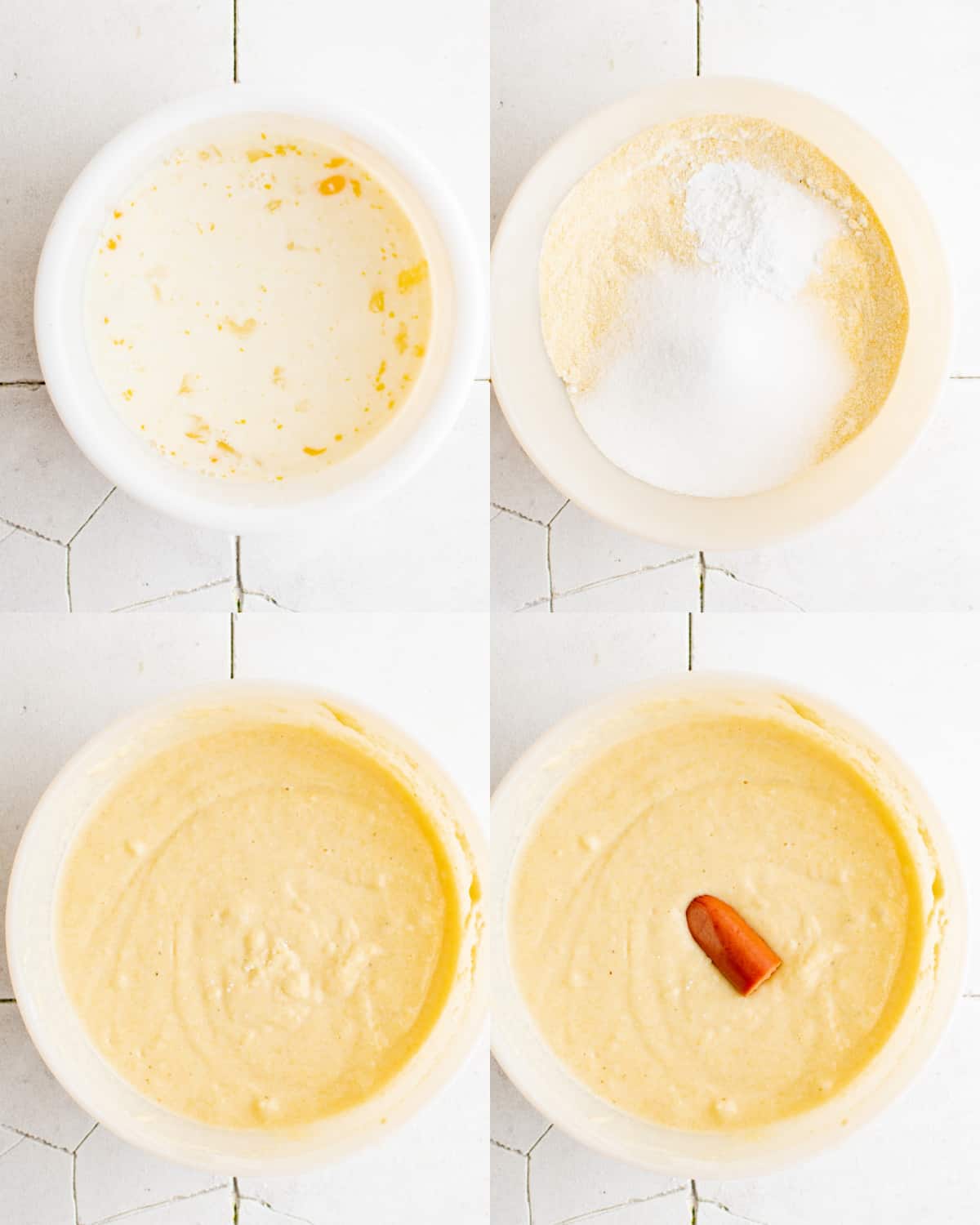 How To Make Mini Corn Dog Bites
Step 1.
Prepare the frying oil. Add 2 inches of oil to a deep frying skillet over medium heat and heat until it reaches 265 degrees Fahrenheit.
Step 2.
Prepare the hot dogs. Cut your hot dogs into thirds and set them aside.
Step 3.
Prepare the corn dog batter. In the meantime add the buttermilk, egg, and honey to a small bowl and stir to combine. Add the cornmeal, flour, sugar, baking powder, and salt to a separate large bowl and whisk together. Stir in the wet ingredients until combined.
Step 4.
Fry the mini corn dogs. Add 5-6 pieces of hot dogs into the prepared batter and fry for 3-5 minutes flipping halfway through. Remove with a metal slotted spoon and set on a paper towel to drain any excess oil.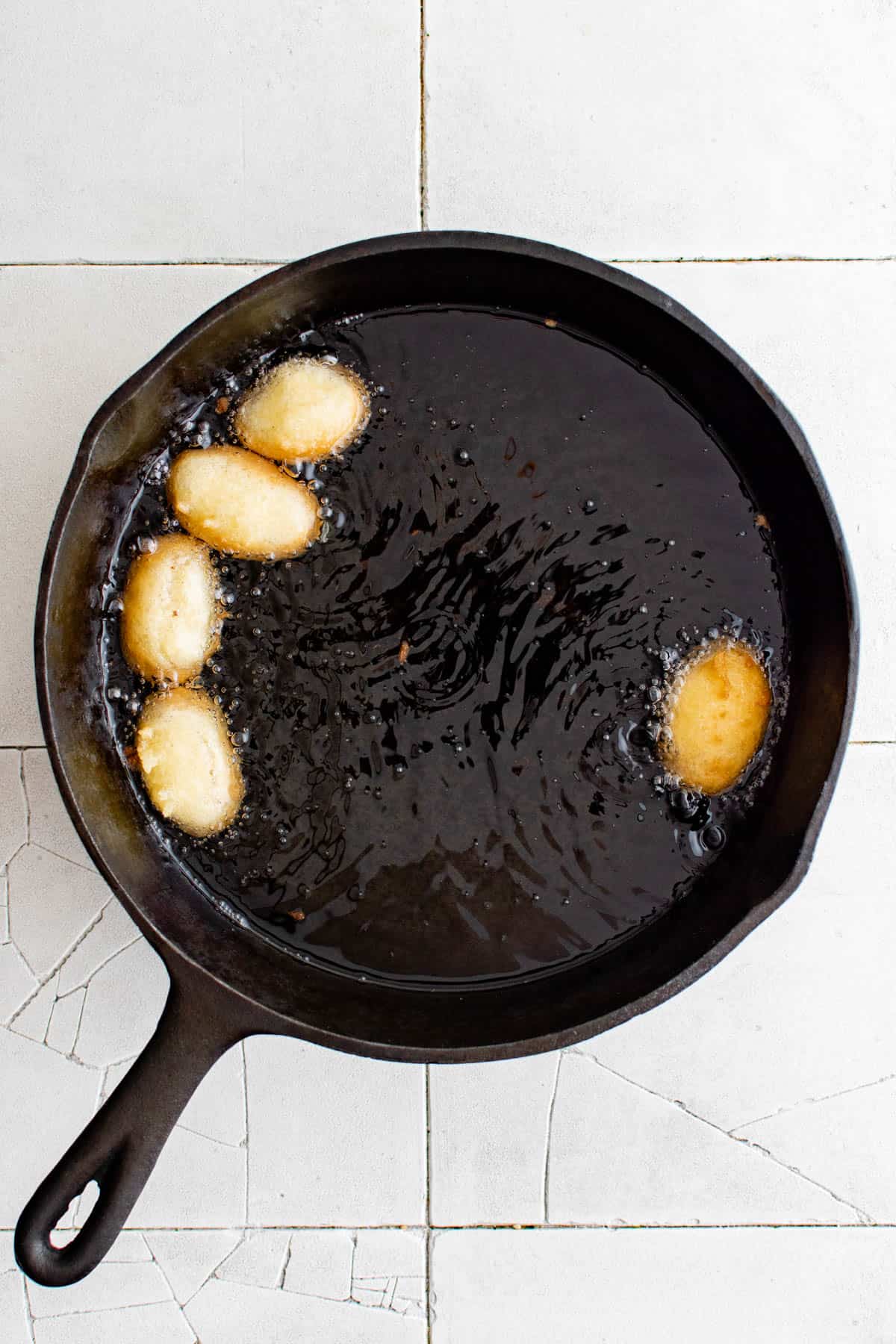 Recipe Tips
Use quality hot dogs. I love using all-beef hot dogs or grass-fed hot dogs for the best flavor.
You can use whatever frying oil you enjoy for this recipe. I personally use vegetable oil, but you can also use cottonseed oil, canola oil, or even peanut oil. Just make sure it's neutral tasting.
When frying anything in hot oil, it's best to have a candy thermometer to make sure it's at the proper temperature. If it's too low, it won't fry enough. Too high and it can burn and splatter.
For best results, make sure you drain the excess oil onto a paper towel to keep it from absorbing back into the corn dog.
For less mess, add your prepared batter to a bowl and poke a skewer into the hot dog. Dip then fry right on the stick.
Only cook 5-6 in each batch as too many will decrease the temperature of the oil.
Variations
For mini corn dogs with a kick, try adding a pinch of cayenne to the batter.
You can swap out the honey for maple syrup for a slight maple pancake that pairs well with the corndog flavor.
Use turkey hot dogs to lighten up this recipe.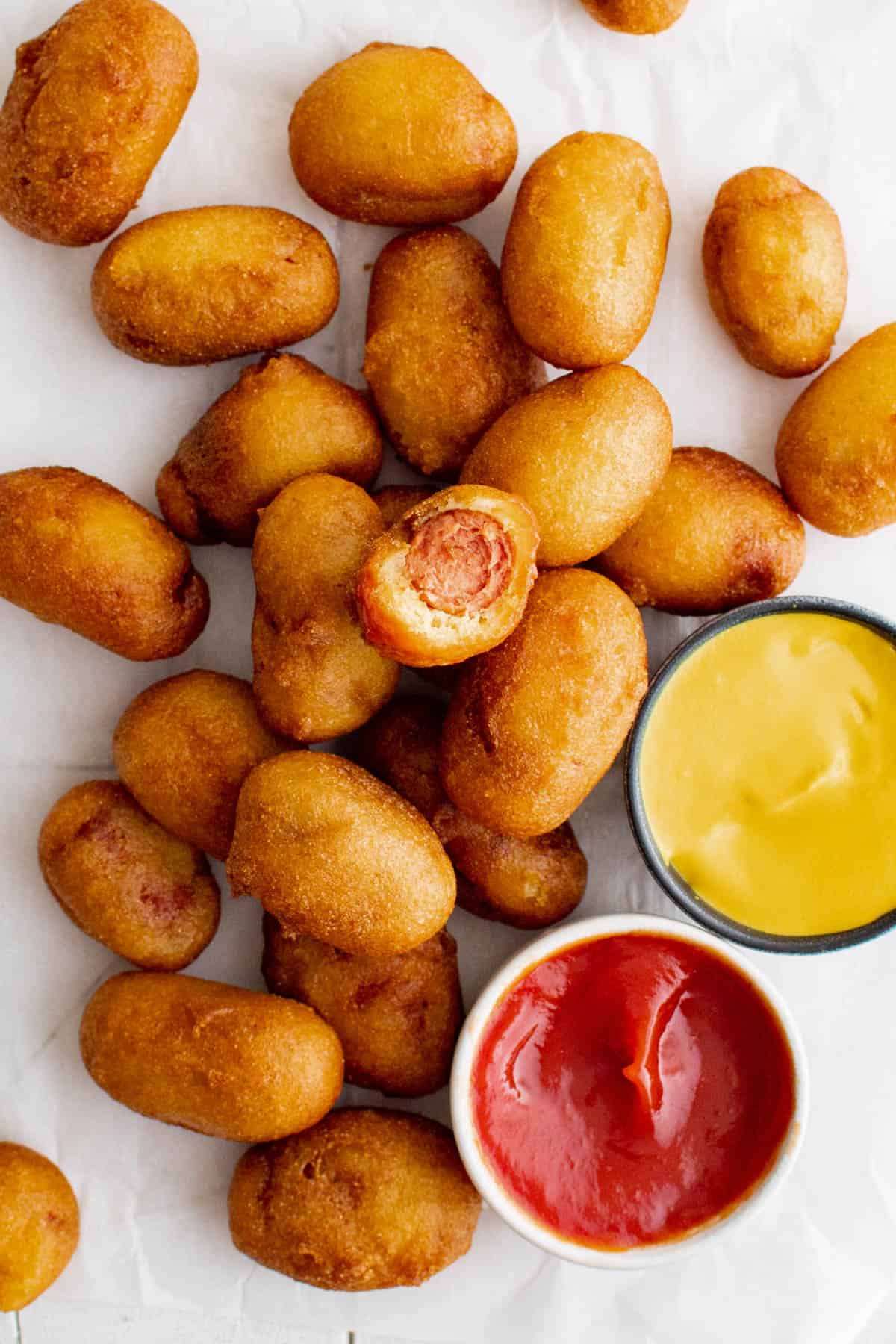 Storing & Reheating
Storing leftover corn dogs: These corn dogs can be stored in an airtight container in the fridge for up to 3 days.
Reheating: Reheat in a 350 degrees oven for 5-6 minutes or until crispy again. You can also reheat them in an air fryer using the same time and temperature.
FAQ
What are mini corn dogs called?
In some places, mini corn dogs are called corn puppies. They are also called corn dog nuggets.
How long do you cook mini corn dogs?
This depends on how big you cut your hot dog, but generally, they will be completely finished in 3-5 minutes since the hot dog itself does not have to be cooked through.
Other Snack Food Recipes
Did you try these mini corn dogs? Leave a recipe rating and review below.
Mini Corn Dogs
Yield: 30 mini corndogs
These mini corn dog bites make the perfect snack or appetizer!
Ingredients
Vegetable oil for frying
1 3/4 cup buttermilk
1 large egg
2 tablespoons honey
1 1/4 cup yellow cornmeal
1 cup all purpose flour
3 tablespoons sugar
2 teaspoons baking powder
1/2 teaspoon salt
10 hot dogs, cut into thirds
Instructions
Add 2 inches of oil to a deep frying skillet over medium heat and heat until it reaches 265 degrees Fahrenheit.

In the meantime add the buttermilk, egg and honey to a small bowl and stir to combine.

Add the cornmeal, flour, sugar, baking powder and salt to a separate large bowl and whisk.

Stir the wet ingredients into the dry until combined then dip 5 to 6 hot dog pieces in the batter.

Drip off the excess from each hot dog then fry for 3 to 4 minutes or until light and golden, flipping them half way through.

Repeat the cooking process with the remaining hot dogs and let them cool on a cooling rack or a plate fitted with a paper towel to drain the excess oil.

Serve with ketchup and mustard if desired.
Notes
Nutritional information does not include the vegetable oil for frying. Amount of oil varies, so complete nutritional info should include the amount of oil used. 
Nutrition
Calories: 98kcal, Carbohydrates: 14g, Protein: 3g, Fat: 3g, Saturated Fat: 1g, Polyunsaturated Fat: 1g, Monounsaturated Fat: 1g, Trans Fat: 1g, Cholesterol: 14mg, Sodium: 159mg, Potassium: 96mg, Fiber: 1g, Sugar: 3g, Vitamin A: 31IU, Vitamin C: 1mg, Calcium: 33mg, Iron: 1mg
If you try this recipe, don't forget to leave a review below or share a photo and tag @spoonfulofflavor on Instagram.