This recipe for Sweet and Salty Popcorn is a fun twist on everyone's favorite salty movie theatre snack. With these step-by-step instructions, you will make the perfect batch of stove top popcorn with only 4 ingredients. Makes 15 cups of popped popcorn.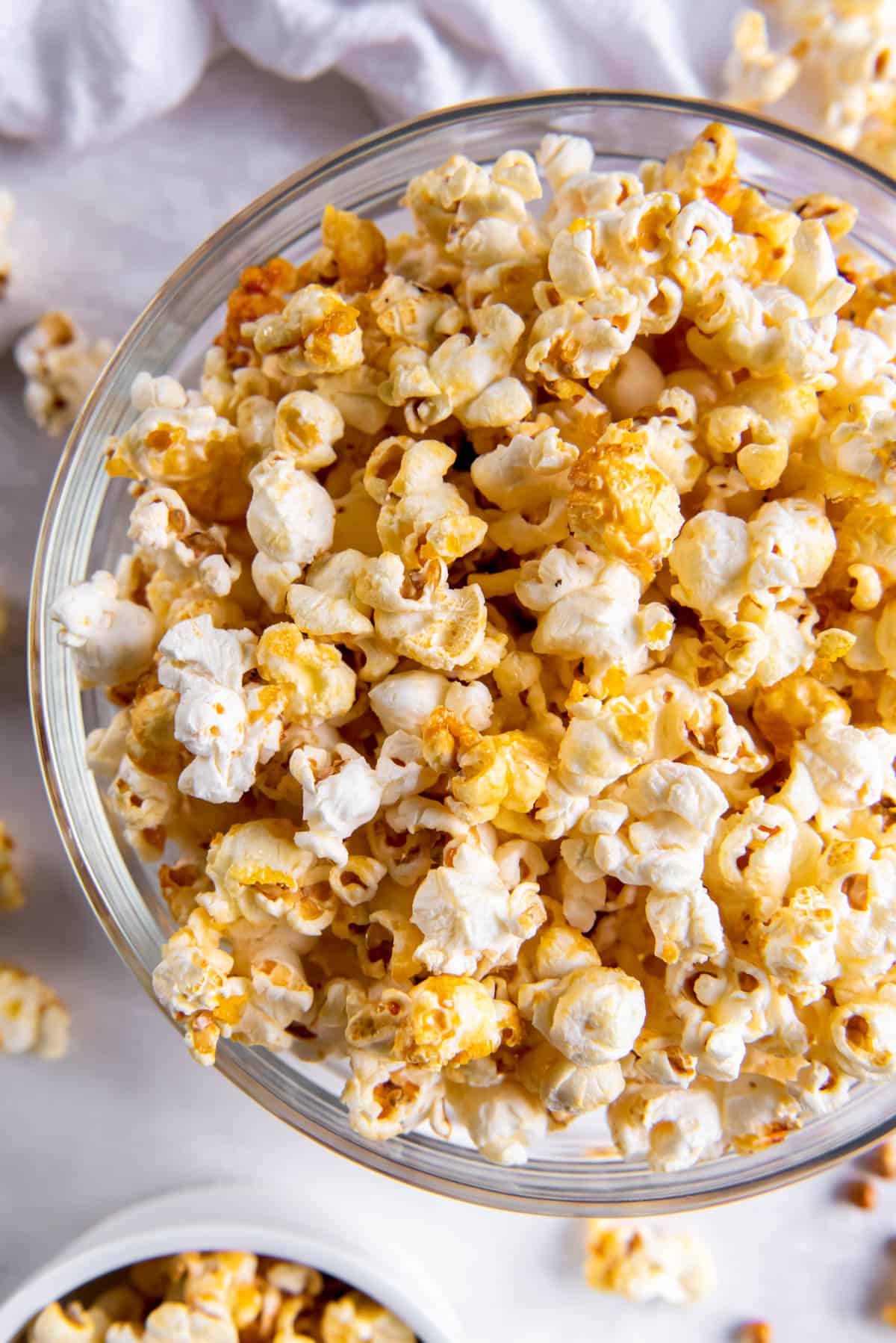 This stovetop popcorn recipe puts a sweet and sugary spin on popcorn! These step-by-step instructions will teach you how to make popcorn on the stove coated with sugar and salt. You'll make a bowl of perfectly popped fluffy sweet salty popcorn.
The only difference between popcorn and kettle corn is added sugar. This homemade sweet and salty popcorn is just like kettle corn, but without the large kettle. Instead, a sturdy-bottomed large pot or Dutch oven gets the job done.
You will need four ingredients to make this sweet and salty snack. It's a super easy recipe that comes together in 10 minutes!
Why You'll Love This Recipe
The popcorn requires only 4 ingredients and a few minutes to make.
This recipe is better tasting and better for you than microwavable popcorn.
It's a quick and easy snack for after school or late night.
The customization options are endless!
Popcorn is a naturally gluten free snack.
Ingredients You Need
This salty popcorn recipe comes together with only 4 ingredients!
Cooking Oil – When making stovetop popcorn, it's important to use clean-tasting oil with a high smoke point. I like using coconut oil, but olive oil, vegetable oil or melted butter work too.
Popcorn Kernels – Popping corn is a specific type of corn that puffs up when it's cooked because of its unique shape and density. You can use yellow or white popping corn.
Sugar – This is necessary for the sweetness. You can use granulated sugar or caster sugar. Use light brown sugar to achieve a rich, caramelized flavor.
Salt – You can use any coarse salt to season popcorn – kosher salt, sea salt, Himalayan pink salt, etc.
How to Make Sweet and Salty Popcorn
No fancy equipment is needed. You don't need any special popcorn popper or tools. Just a large pot and the four ingredients!
Heat the oil: Add oil and three popcorn kernels to a large deep pot or Dutch oven with a well-fit lid and set the heat to medium-high.
Combine kernels, salt and sugar: Once all three kernels pop, remove them from the pot and add the remaining kernels. When the popping slows, lift the pot from the heat and continue to shake (with the cover still on) until the popping stops completely.
Cool and serve: Immediately spread the popped popcorn out on a large baking sheet, breaking up any big clumps. Season to taste with additional salt and enjoy!
Serve in a bowl, brown paper bag or popcorn bag.
Recipe Tips
Use a pot that is at least 3 quarts. A large stock pot or Dutch oven works great. However, you will be lifting the pot from the stove to shake the kernels, so don't use a pot with too much weight.
Start with only three kernels. You will know the pot is hot enough to pop the remaining popcorn kernels as soon as the first three pop.
Shake, shake, shake: When the popping slows to 1 to 2 seconds between each pop, lift the pot off of the heat and continue shaking, continuously rotating the kernels as they finish popping.
Allow the popcorn to cool: Quickly spread the sticky popcorn out on sheet pan to cool. Otherwise, the pieces will cool in large clumps.
Flavor Variations
Spices and Seasonings: Enhance the flavor by using a variety of different spices or seasonings. Toss the popped kernels with dessert spices like cinnamon, nutmeg, pumpkin pie spice, vanilla bean powder and gingerbread.
Drizzle: Spread the popcorn out to cool, then drizzle melted chocolate, caramel or peanut butter sauce over the top. It will harden as it cools.
DIY Popcorn Snack Mix: This popcorn is delightful in a sweet and salty snack mix. Let the popcorn cool to room temperature, then add your favorite snacks for a personalized treat. Ideas for other snack mix ingredients are below.
Chocolate – Mini M&Ms, chocolate chips or chocolate chunks
Crunchy Munchies – Crispix cereal, pretzels, potato chips
Dried Fruit – Apricot, coconut, dates, mango, pineapple, raisins
Freeze-dried Fruit – banana chips, strawberries
Toasted Nuts and Seeds – almonds, cashews, pumpkin seeds and peanuts
Marshmallows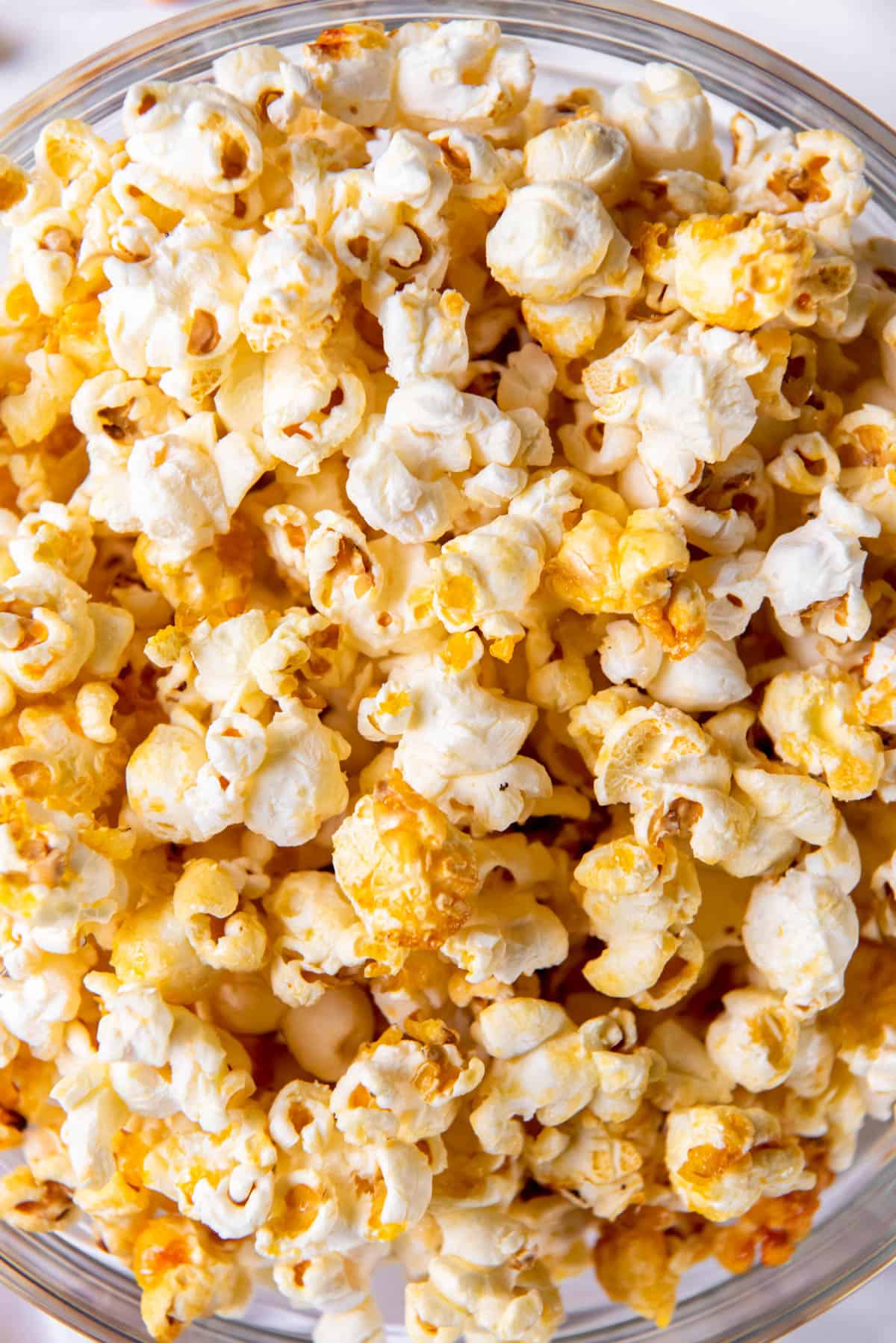 How much popped popcorn do popcorn kernels make?
A small amount of popcorn kernels goes a long way. See below for serving adjustments.
2 tablespoons of kernels: 4 cups of popcorn
1/4 cup of kernels: 8 cups of popcorn
1/2 cup of kernels: 16 cups of popcorn
1 cup of kernels: 32 cups of popcorn
Other Snack Recipes
Enjoy movie night at home with this popcorn recipe. Try it and let us know what you think by leaving a recipe rating and review below!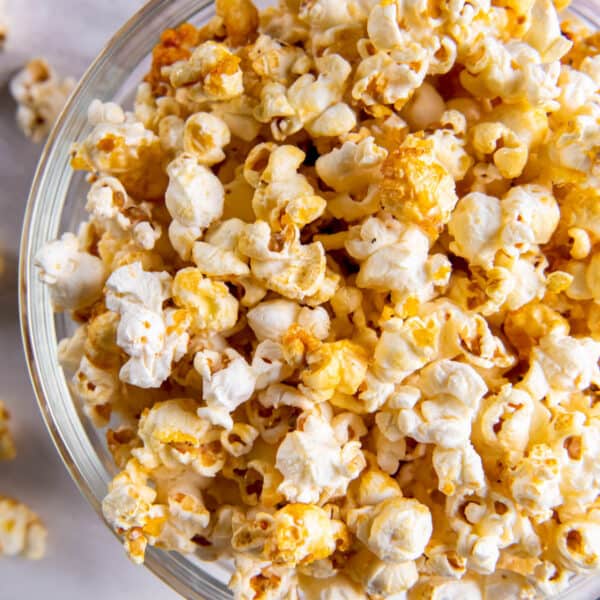 Sweet and Salty Popcorn
Yield: 6
Homemade sweet and salty popcorn is a fun snack made with just 4 ingredients in 10 minutes!
Ingredients
3 tablespoons coconut oil, (or olive oil or vegetable oil)
1/2 cup fresh popcorn kernels
1/4 cup sugar
1/2 teaspoon kosher salt
Instructions
Place the oil and 3 popcorn kernels in a large, deep Dutch oven or pot with a good fitting lid and set it over medium high heat.

Once all 3 kernels pop, remove them and add the rest of the popcorn kernels as well as the sugar and salt, stirring well to coat. Cover the pot with the lid and allow the kernels to pop, vigorously shaking the pop every 5 to 10 seconds to keep the popcorn evenly distributed and from burning.

When the popping slows, after about 3 minutes, remove the pop from the heat but continue shaking until popping ceases. Immediately pour the popped corn onto a large baking sheet and spread it into an even layer, breaking up clumps as needed. Taste and add salt if desired.
Notes
STORAGE Store this homemade kettle corn in an airtight container or airtight resealable bag at room temperature for 5-7 days. No freezing, please!
Nutrition
Calories: 142kcal, Carbohydrates: 18g, Protein: 1g, Fat: 8g, Saturated Fat: 6g, Polyunsaturated Fat: 0.5g, Monounsaturated Fat: 1g, Sodium: 195mg, Potassium: 38mg, Fiber: 2g, Sugar: 8g, Calcium: 1mg, Iron: 0.4mg
If you try this recipe, don't forget to leave a review below or share a photo and tag @spoonfulofflavor on Instagram.
Other Snack Recipes