Spinach Ricotta Stuffed Chicken is an easy dinner recipe that is low carb and delicious. Stuff a homemade spinach and ricotta filling inside chicken breasts and bake for an easy dinner recipe that pairs well with any side. Prep in 15 minutes before cooking!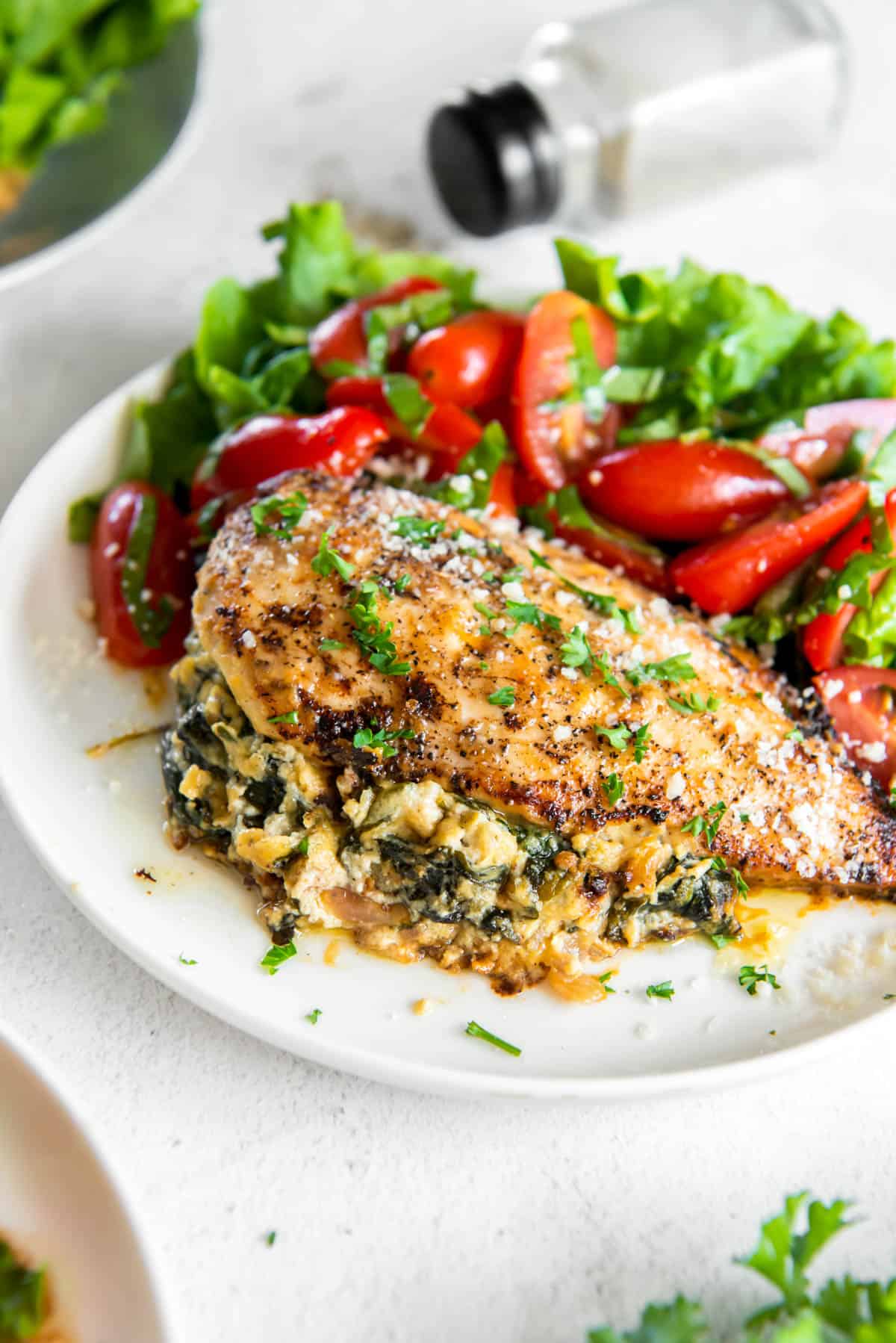 Chicken is always a great choice for dinner. It's high in protein and super satisfying.
This recipe for spinach and ricotta chicken is the perfect way to enjoy chicken breast. Not only is it made with Mediterranean flavors, but it's also healthy and low carb.
Mix creamy ricotta cheese with parmesan and mozzarella cheese to create a salty creamy cheese base. Add cooked spinach, garlic, and onions with a few seasonings to make the flavorful filling before stuffing into to the pocket of a split chicken breast.
Enjoy this tender juicy chicken with a creamy spinach filling that everyone can enjoy. Serve with a Mediterranean Chickpea Salad or hearty Roasted Vegetables with Feta or Roasted Potatoes and Broccoli.  
Why You'll Love This Recipe
This cheese stuffed chicken is flavorful, satisfying, and low in carbs.
You can pair spinach ricotta stuffed chicken with any side dish you enjoy including starches and vegetables.
The entire stuffed chicken recipe takes less than 50 minutes to make from start to finish making it a great option for a weeknight meal.
You can customize this chicken dish by using your favorite greens and cheeses.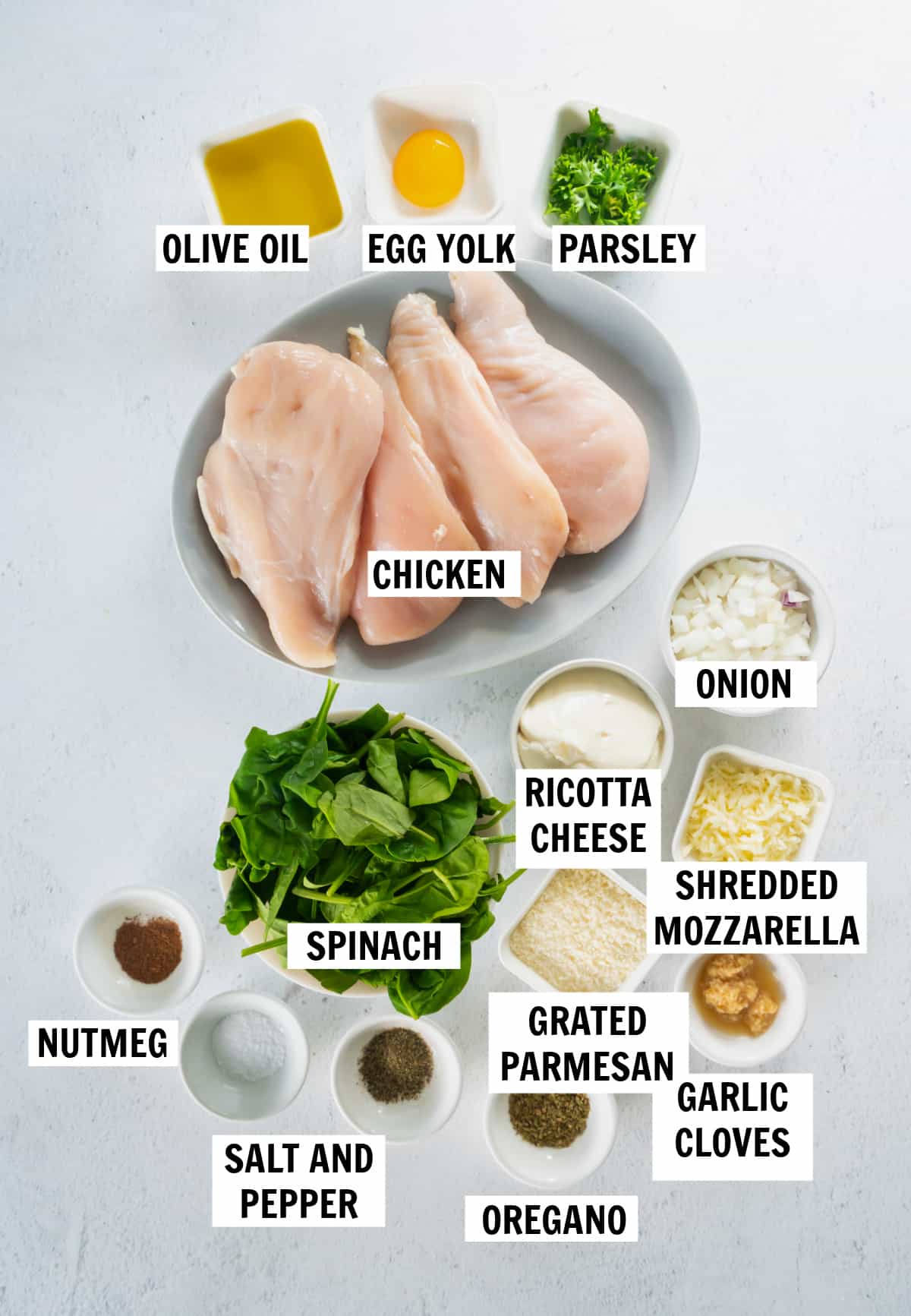 Ingredients You'll Need
Chicken Breasts – You'll need four boneless skinless chicken breasts that are relatively large in size in order to fit the stuffing inside.
Salt & Pepper – Helps to properly season the chicken breasts on all sides.
Extra Virgin Olive Oil – Used to cook the garlic and onion as well as to pan-sear the chicken breasts in a skillet.
Garlic & Onion – Infuses the chicken breasts with a fresh garlic and onion taste.
Fresh Baby Spinach – Gives the inside fresh green color and nutrient-dense leafy greens. You can use frozen spinach in a pinch, if needed.
Fresh Parsley – Adds a fresh herb flavor to the filling which brightens up the flavor of the chicken.
3 Cheese Blend – A mix of ricotta cheese, shredded mozzarella cheese, and freshly grated parmesan cheese are the perfect blend of salty and creamy cheeses that flavor the filling.
Egg Yolk – Helps bind the spinach ricotta filling together to help keep it inside the chicken breast. You can omit the egg, if needed, however the filling may spread more.
Dried Oregano – Adds Italian herb flavor.
Nutmeg – Dried nutmeg adds a light layer of flavor to the filling that compliments it well.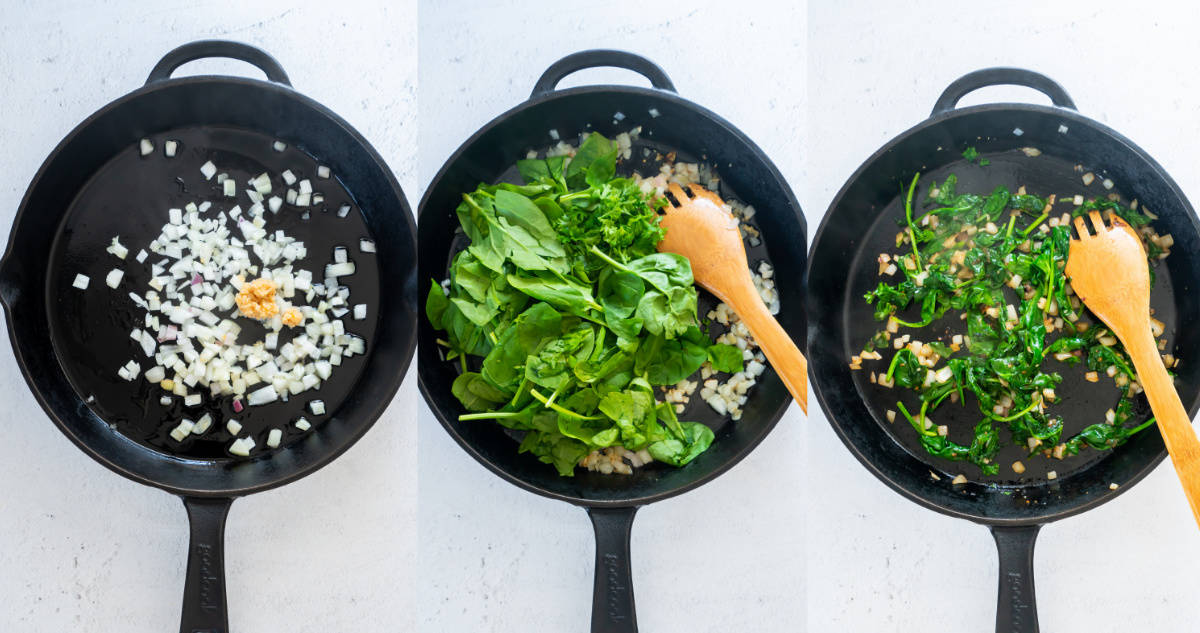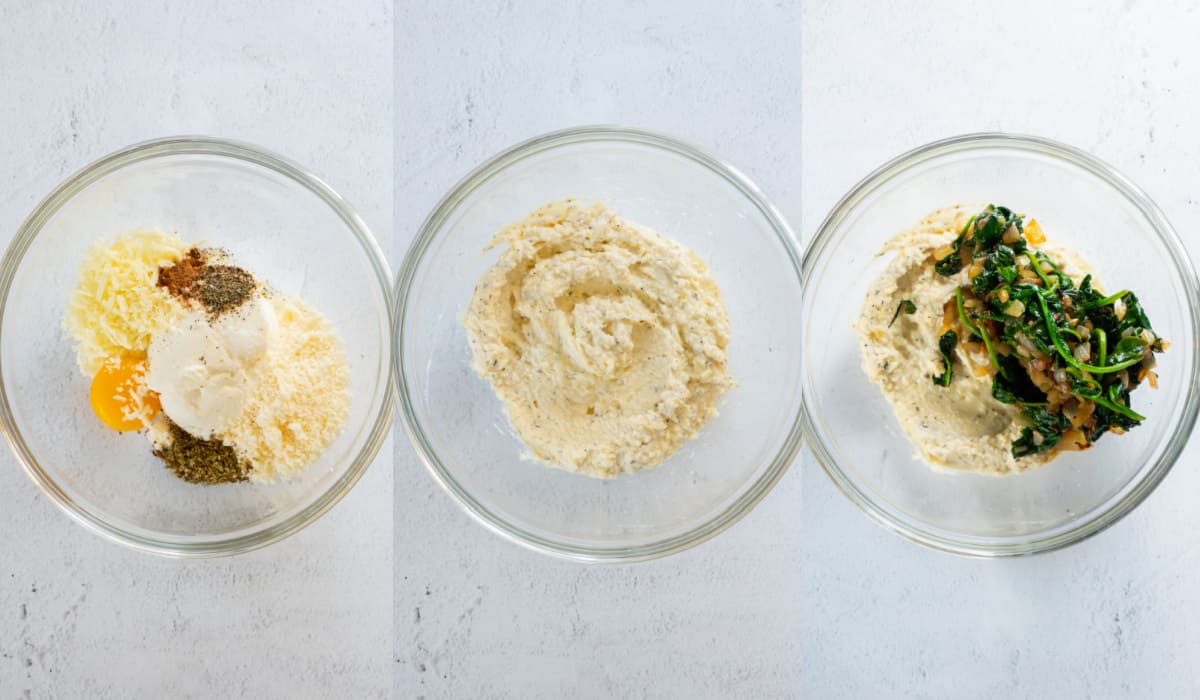 How To Make Spinach Ricotta Stuffed Chicken
Prepare the chicken breasts: Preheat your oven to 375 degrees Fahrenheit. Prepare the chicken breasts by patting them dry with a paper towel. Cut a 3-4 inch pocket in each chicken breast using a sharp knife for the filling making sure not to split the breast completely open. Once each chicken breast has a pocket, season all sides with a sprinkling of salt and pepper. Set aside.
Cook the garlic, onion and spinach: Pour one tablespoon of the olive oil in a large pan over medium heat. Add the chopped onion and garlic and saute until they are softened. This should take about 3-5 minutes. Add the spinach and parsley and cook until they are soft and the moisture is evaporated. Remove from the skillet and set aside in a bowl. Wipe out the skillet before cooking the chicken.
Assemble the filling: In a large bowl, mix the ricotta, mozzarella, parmesan cheese, egg yolk, oregano, and additional salt and pepper until fully combined. Stir in the cooled spinach mixture to complete the filling.
Assemble the spinach stuffed chicken: Grab the prepared chicken breasts. Divide the cheese mixture into even portions and stuff the filling into each chicken breast in the pocket.
Pan-sear the cheese-stuffed chicken breasts: Add the remaining olive oil into the skillet until the pan is coated (you may need to add a little more olive oil to full coat the pan.) Heat over medium-high heat or until the olive oil gets shiny. Using tongs, carefully pan sear the stuffed chicken breasts in the olive oil for 5-7 minutes on each side until the outside is golden brown.
Bake and serve: Place the oven safe skillet into the preheated oven and bake the chicken for 16-20 minutes or until the internal temperature reaches 165 degrees Fahrenheit on an instant read thermometer. Remove the ricotta stuffed chicken from the skillet and let it rest for 3-5 minutes before slicing and serving with your favorite side dishes.
Serve the ricotta spinach stuffed chicken on its own or with a simple side dish like a fresh Garden Salad, Oven Roasted Parsnips, Roasted Zucchini and Squash or Garlic Mashed Potatoes.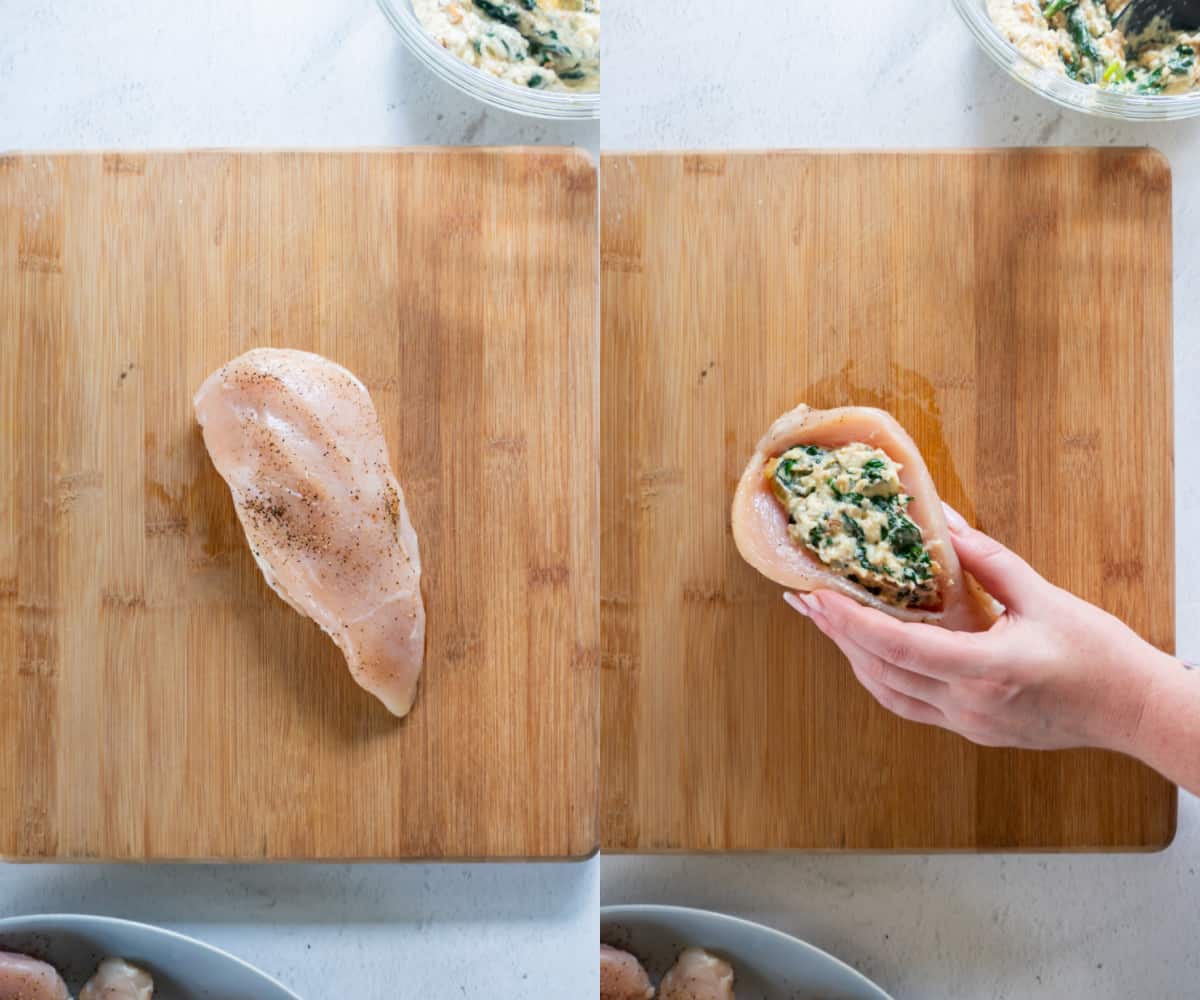 Expert Tips
Chicken Breast Sizing: When purchasing chicken breasts, make sure they are large enough to hold the filling and not of a smaller variety.
Do not overfill chicken. When stuffing the chicken, try not to overfill as the filling could spill out and melt. If your filling is not staying inside the chicken properly, you can use toothpicks to close up the outside of the chicken breast.
For easy clean-up, use an oven-proof skillet such as a cast-iron skillet that can go from stove to oven easily. If you don't have one, transfer the ricotta stuffed chicken to a baking dish to finish baking.
Using frozen spinach: You can use frozen spinach in the spinach ricotta filling, just make sure all of the moisture is completely squeezed out before adding.
Check the temperature of chicken when cooking. It's always important to make sure it is at a safe temperature for consumption. A kitchen thermometer is the best way to ensure this. The internal temperature of the chicken should read 165 degrees Fahrenheit on an instant read thermometer.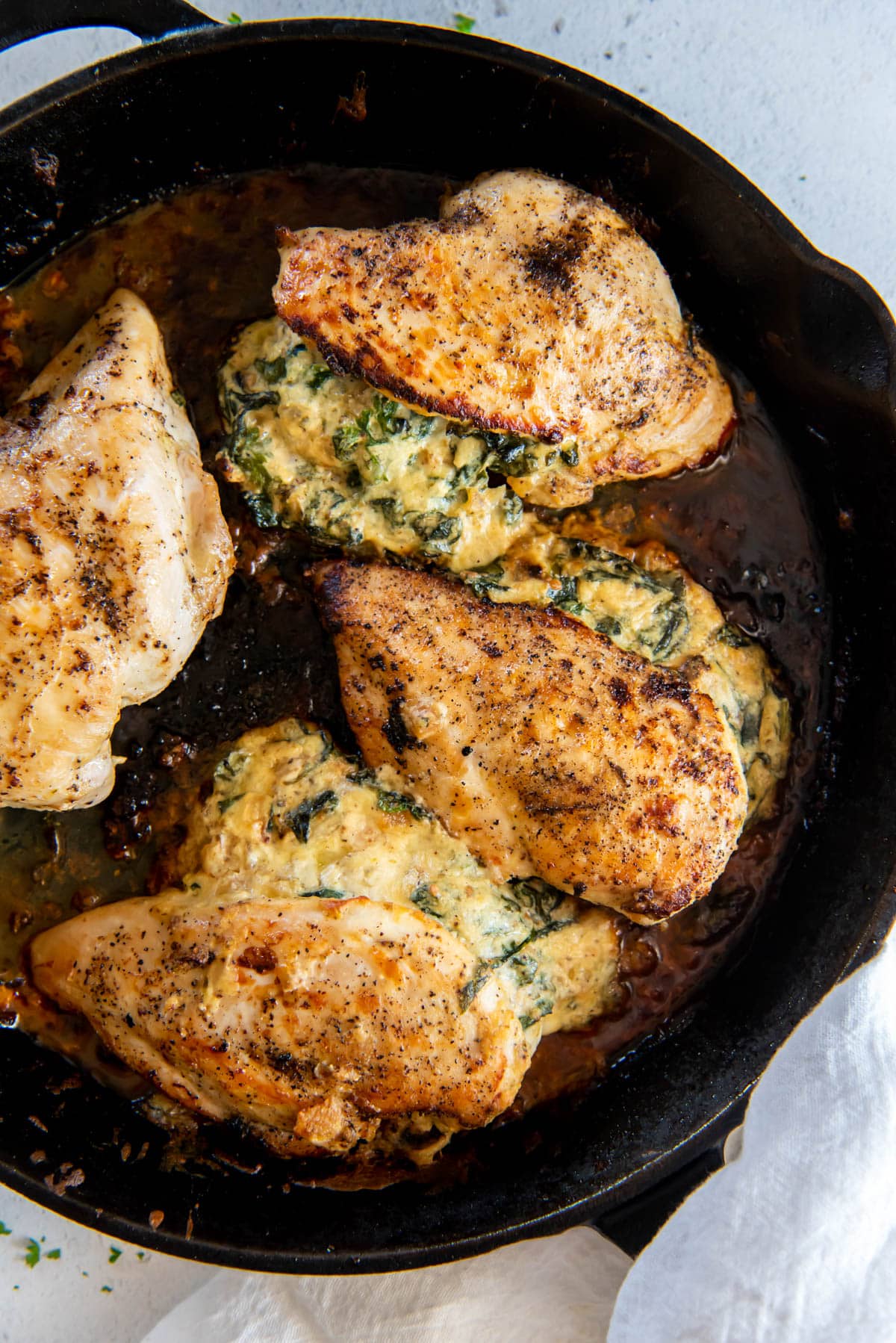 Variations
Add spicy flavor by mixing in some red pepper flakes into the filling to your desired spice level.
Use different greens. You can use any greens you enjoy to make this dish including kale, swiss chard, or even beet greens.
Choose any type of cheese you like to make the filling, just make sure it melts well. The best melting cheeses are gouda, gruyere, or swiss cheese.
Add bacon. You can add chopped cooked bacon to the filling for extra flavor and protein, if desired.
Use chicken thighs. Make this spinach ricotta stuffed chicken recipe using boneless skinless chicken thighs by adding less filling. The cooking time will vary.
Use lemon. Add the zest of one lemon to the filling for a bright and fresh citrus flavor.
Add red sauce. Before baking, add some red sauce and mozzarella on top for a chicken parmesan twist.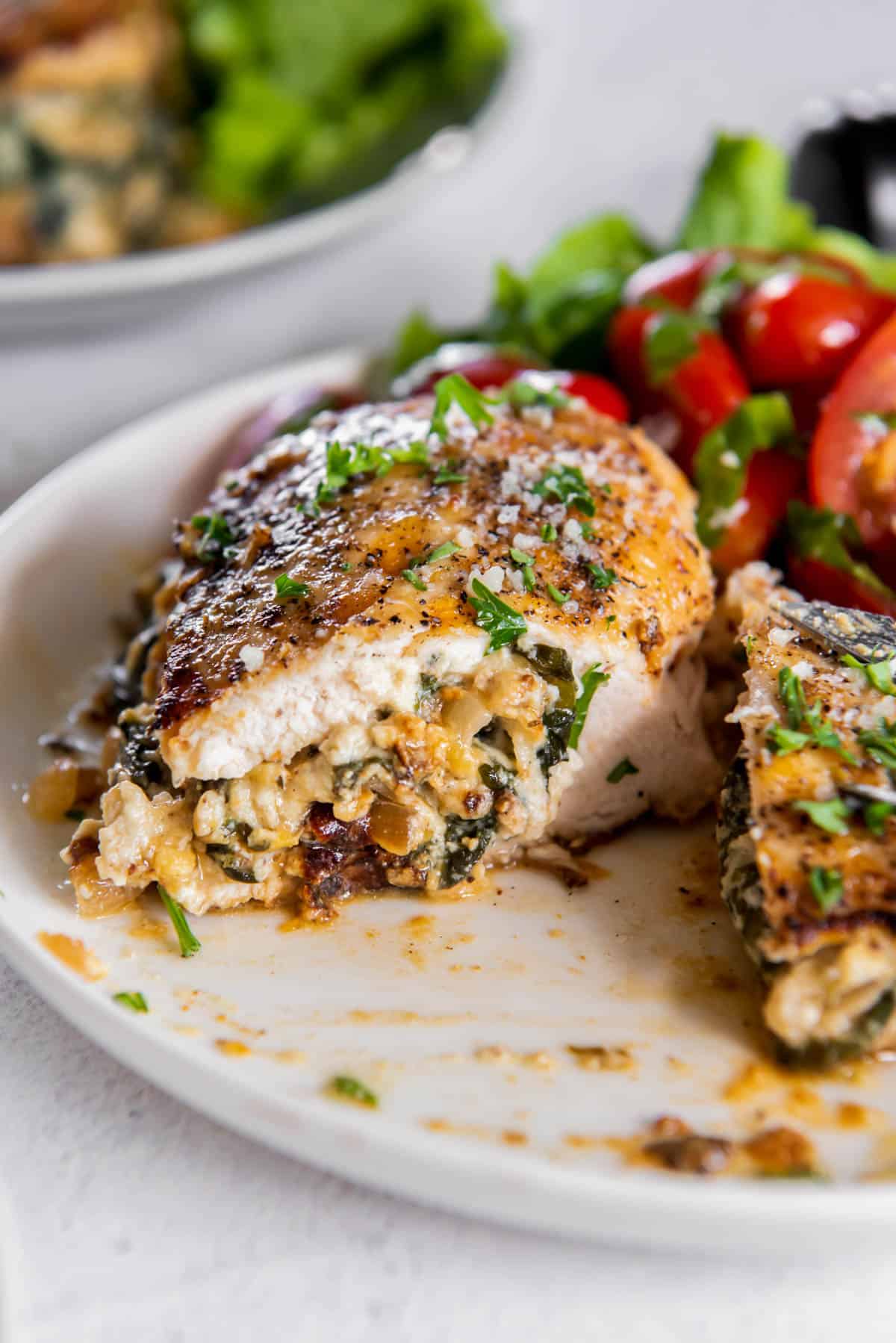 This chicken tastes great served on it's own or with a simple side. It's one of the best Mediterranean diet recipes and also tastes great as leftovers. Enjoy it for dinner any day of the week or during a special occasion, like a dinner party or holiday gathering.
Did you try this spinach ricotta stuffed chicken breast recipe? Leave a recipe rating and review below!
Spinach Ricotta Stuffed Chicken
Yield: 4
Chicken is stuffed with a spinach ricotta cheese filing to create an easy dinner any day of the week.
Ingredients
4 boneless skinless chicken breasts
Kosher salt, to taste
Black pepper, to taste
2 tablespoons extra virgin olive oil, divided
1/2 cup yellow onion, diced
3 cloves garlic, minced
2 cups fresh spinach, chopped
2 tablespoons fresh parsley, chopped
1/2 cup ricotta cheese
1/4 cup shredded mozzarella
1/4 cup grated Parmesan
1 egg yolk
1 teaspoon dried oregano
pinch nutmeg
Instructions
Preheat the oven to 375 degrees Fahrenheit.

Pat the chicken breasts dry. Lay a chicken breast flat on a cutting board. Using a sharp knife, carefully cut a 3-4 inch wide pocket into the thickest part of the breast, being sure not to split the breast completely. Repeat with each breast, then season on both sides with salt and pepper to taste.

In a large skillet, heat 1 tablespoon of olive oil over medium heat. Add onion and garlic and saute for 3-5 minutes, stirring often, until softened.

Stir in spinach and parsley, and cook for 2-3 minutes, until spinach wilts and moisture evaporates. Transfer to a bowl and allow to cool completely. Clean out the skillet and set it aside.

Meanwhile, in a large bowl, mix together the ricotta, mozzarella cheese, Parmesan cheese, egg yolk, oregano, nutmeg, salt and pepper. When the spinach mixture has cooled, stir it into the cheese mixture until combined.

Divide the stuffing mixture into the pocket of each chicken breast.

In the clean skillet, heat remaining olive oil over medium-high heat until hot. Add the chicken in and cook on one side for 5-7 minutes until golden, then carefully turn over and cook on the other side for another 5 minutes. Place the skillet in the oven and bake for 16-20 minutes, or until the internal temperature in the thickest part of the chicken is 165 degrees F.

Transfer the chicken to a serving platter and allow it to rest for 3-5 minutes before serving. Serve with a salad or your favorite vegetables and starches.
Notes
Storing: Leftover ricotta stuffed chicken can be stored in an airtight container in the fridge for 3-4 days. Reheat in the oven at 325F for 15-20 minutes or until warmed through.  Freezing: You can store uncooked stuffed chicken in the freezer for up to 3 months. Wrap each stuffed chicken breast tightly in plastic wrap and then in a layer of foil. Freeze on a baking sheet overnight until solid, then add to a freezer-safe bag. Thaw overnight in the fridge before cooking and serving.
Nutrition
Calories: 323kcal, Carbohydrates: 5g, Protein: 33g, Fat: 19g, Saturated Fat: 7g, Polyunsaturated Fat: 2g, Monounsaturated Fat: 9g, Trans Fat: 1g, Cholesterol: 148mg, Sodium: 604mg, Potassium: 608mg, Fiber: 1g, Sugar: 1g, Vitamin A: 1921IU, Vitamin C: 10mg, Calcium: 214mg, Iron: 2mg
If you try this recipe, don't forget to leave a review below or share a photo and tag @spoonfulofflavor on Instagram.
Other Chicken Recipes